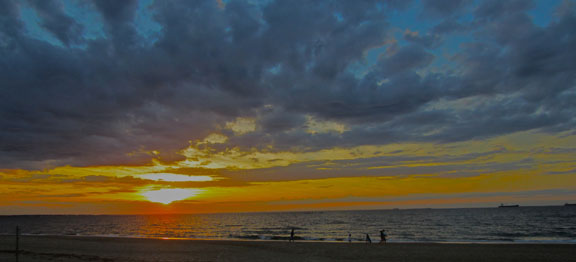 Tidewater Current | Fall 2012
Transmitting news and infomation about sustainable endeavors in Coastal Virginia and beyond. Updated Weekly.
Features:
Sea Level Rise Research | Adapting the Built Environment for Rising Seas| Brewers Contribute to Bay Restoration Efforts | Marine Propulsion – Is Wind back on the Horizon? |Dominion Supports Eco Village Project | Norfolk Home to Virginia's Largest Solar Array
The Rising Tide: Research and Planning
Posted 9.23.12 - By Carol Brighton
With studies indicating that sea level rise (SLR) rates are accelerating in the region, scenes like the flooding depicted below in Norfolk's Larchmont neighborhood are likely to become more widespread and increase in frequency and duration.  USGS research published this summer in the  Journal Climate Change reports evidence that SLR is 3-4 times higher than the global average in the mid-Atlantic and suggests that changes in ocean currents may be the cause.   Another study from scientists at Old Dominion accepted for publication in Geophysical Research Letters supports the USGS findings.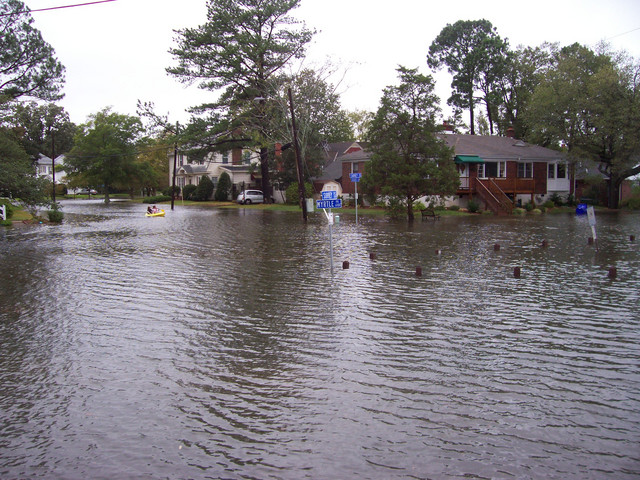 Using a new technique to analyze sea level data from 8 points in the Chesapeake Bay, ODU's Tal Ezer and William Bryce Corlett, confirm that sea level rise is accelerating at rates much higher than the global average.  One phenomena thought to be responsible for at least some of the observed acceleration rate supported by both research teams: a weaker Gulf Stream. According to Tal Ezer, "the fast flowing currents [of the Gulf Stream] keeps our coastal sea level lower relative to the rest of the southeastern North Atlantic."  So a slower flowing Gulf Stream results in a local increase in sea level. Ezer and colleagues suspect that a disruption of an important oceanic dynamic pattern known as the Meridional Overturning Circulation may be the underlying cause of the problem.  Ezer explains "cold dense waters from the Arctic and the Labrador Sea sink and move south at great depths, while warm currents such as the Gulf Stream return the flow northward near the surface.  Global warming of the Arctic Ocean and melting ice cause the waters in polar region to be less dense, so they don't sink as fast and thus the circulation of the entire Atlantic Ocean is slowing down, including the Gulf Stream."
The map below illustrates linear trends in sea level rise, meaning, the level of sea rise recorded over a specific time frame is projected to occur at the same rate into the future. Even though accelerated rates of future sea level rise are therefore not reflected in the map, the anomaly of heightened sea level rise in the mid-Atlantic is obvious. Click on the image below for a link to the NOAA website and a larger interactive map.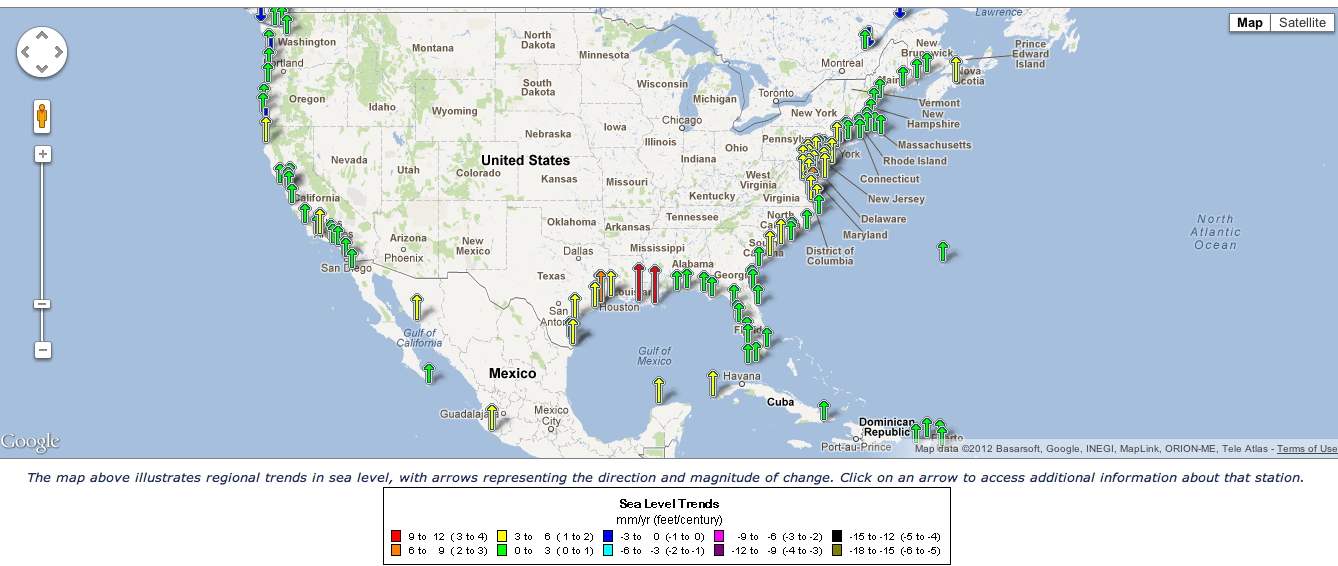 In addition to a rise in sea level caused by the slowing of the Gulf Stream, the thermal expansion of sea water, and melting of ice sheets, which was unprecedented last summer, the population in Coastal Virginia must also contend with terrestrial subsidence. The combined effects of sediment compaction and groundwater withdrawal is causing land in the region to sink and alone this factor could contribute to half of the relative sea level rise already recorded.  As a result, the region is second only to New Orleans, for rates of relative sea level rise. And, according to the Governors Commission on Climate Change, the Norfolk/Virginia Beach MSA ranks 10th in the world for assets at risk from increased flooding caused by rising seas.  As the map below illustrates, a significant proportion of property lies at low elevations.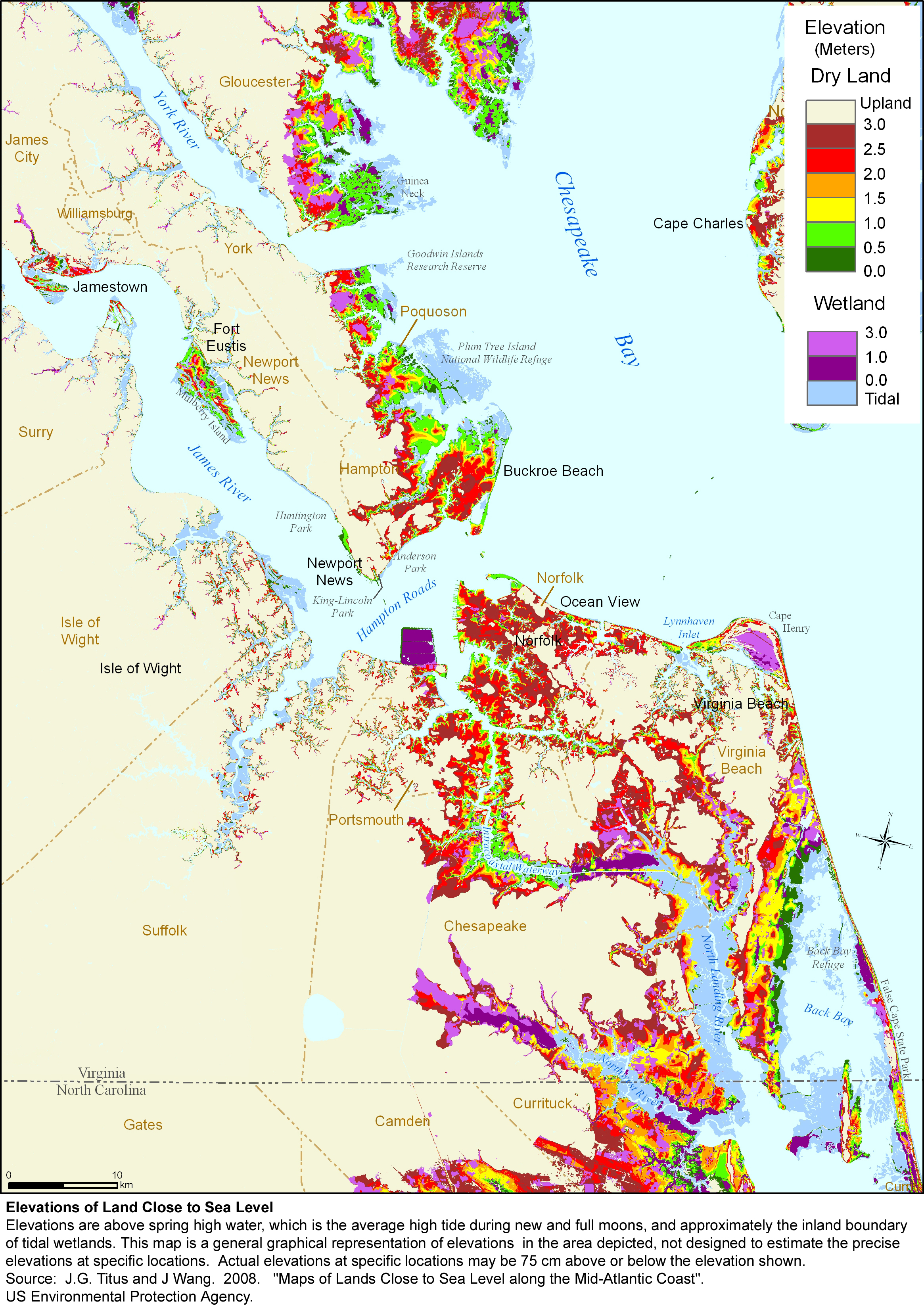 Planning for the Rising Tide
Old Dominion University, the Virginia Institute of Marine Sciences and the University of Virginia, among others, are conducting ongoing research related to sea level rise. A recently released report prepared by the UVA School of Architecture explores the challenges that future sea level rise may pose for the City of Virginia Beach.  The Virginia Sea Grant funded study advocates planning strategies that can be employed to accommodate and adapt to expected changes. Its no surprise, areas at high risk include the Oceanfront hotel district, North Beach, the Shore Drive corridor, Sandbridge and Dam Neck. 
As sea level rise is non linear and expected to accelerate over time, researchers recommend planning for a 1 meter SLR over the next century.  This is a fairly conservative estimate, and other cities, like Miami,  Houston and New Orleans are preparing  for a comparable if not not greater rate of rise.   With a one meter rise in sea level, close to 30% of the City would be inundated.  If the City fails to plan for a rising tide, severe economic impacts are expected. The report suggests that the City may need to identify areas to protect and those to retreat from.  A fairly extensive list of planning and land use management recommendations are put forward and those that are particularly relevant are highlighted below. The full report is available here.
Future development needs to be managed to limit growth in areas at risk and critical infrastructure needs to be moved from low lying areas and sited in strategic growth areas.  Sea level and Shoreline conservation districts should be created which would respectively ban development in areas less than 3 feet in elevation and along waterways.  Green infrastructure practices that trap and reduce storm water runoff need to be encouraged.  Examples include, green living roofs, rain water harvesting, rain gardens and bioswales and use of permeable pavers and pavement. To preserve wetland areas and allow their natural migration, incentives should be provided to existing waterfront homeowners that construct living shorelines and armored shoreline stabilization devices should be banned.  In rural areas, upland agricultural land should be preserved while lowlands may be converted to aquaculture.  With limited sand resources, it is also suggested that beach replenishment projects be reserved for urban beaches and that a dune system be created at the Oceanfront hotel district.
UVA was also involved in more regional research. UVA's School of Environmental Negotiation has held several public meetings throughout the region to raise awareness about sea level rise and gauge public opinion while landscape designers looked at the potential of building islands off of Norfolk's Willoughby beaches to reduce erosion and potential flooding issues. With a proximity to numerous waterways and low elevations throughout much of the City, Norfolk is looking for federal assistance in the battle against encroaching high water. The City is investigating large barrier projects in several areas including the Hague and Pretty Lake to stem frequent flooding.
There are upcoming opportunities to learn more. Both ODU and VIMS area involved in or sponsoring events related to sea level rise, which are highlighted below.
Upcoming Events:

Orrin Pilkey to discuss : Sea Level Rise, Eroding Beaches, and the Mathematical Models that Describe Them
Friday, September 28th 2012 - 3:30pm - 4:30pm - More Info.
VIMS - Watermen's Hall, Dominion Classroom, Andrews 326
1375 Greate Road
Gloucester Point, VA 23062
"Sea Level Rise and Inundation Workshop: What? So What? Now What."
The half-day workshop will begin at 12:30 p.m. on Oct. 15. At the Ocean '12 Conference held at the Virginia Beach Convention Center - Topics covered, include:. 
• Why the global ocean sea level rises
• Why the land subsides in the mid-Atlantic region
• How storm frequency and intensity could change
• How to map flooding from sea level rise
• How to forecast and show storm surge flooding at high resolution with sea level rise
• How to identify and analyze societal effects of sea level rise
• How to measure the risk involved from sea level rise
• How to work with the public to help identify the best way to adapt to sea level rise
• What the city of Norfolk is doing to prepare for sea level rise
• What North Carolina is doing to understand the effects of sea level rise
Workshop speakers will include Robert Tuleya, a research scientist with ODU's Center for Coastal Physical Oceanography, and Burton St. John, an ODU assistant professor of communication and theatre arts. Other will be from the city of Norfolk, the Hampton Roads Planning District Commission, the North Carolina Office of Geospatial and Technology Management, the Virginia Institute of Marine Science, the U.S. Geological Survey, the National Oceanic and Atmospheric Administration, the University of Idaho and the U.S. Army Corps of Engineers.  More info.
About ODU's Climate Change and Sea Level Rise Initiative
Image Credit: Larchmont Flooding - islandgirl725
---
Adapting the Built Environment for Sea Level Rise
Posted 9.26.12 - By Carol Brighton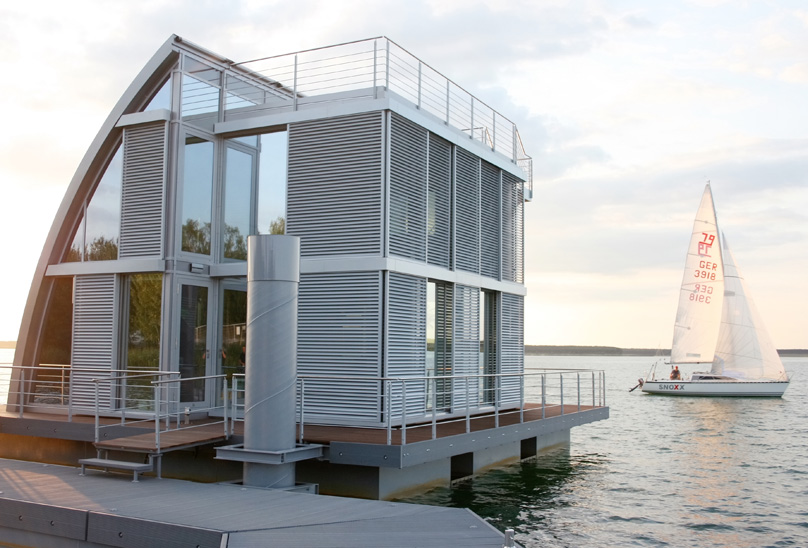 The Tidewater region is expected to experience acute effects from sea level rise, but we are not alone. With most major cities sited along waterways and over half the country's population within a short drive of the Coast, future storm driven inundation could impact a significant segment of US residents.   
Exploring how to adapt is beginning to receive much needed attention.   Rather than retreating from inundation prone low elevations, the solution, in some situations, may be to look for ways to make accommodations to the built environment.  Amphibious or floating architecture or aquatecture is one potential coping strategy.
Image: SteelTec37 AR-CHE Aqua Floathome - Lusatian Lake District, Germany. Inhabitat Article.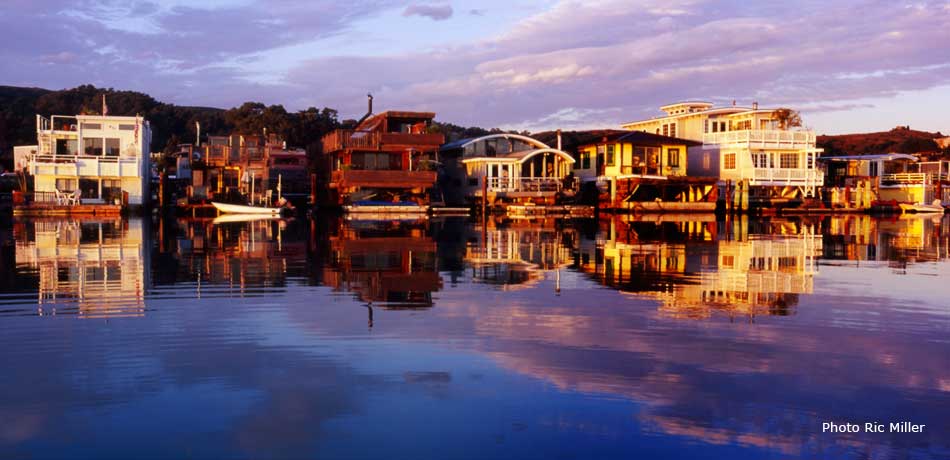 In densely populated cities, with limited room for expansion, floating development is not uncommon. Seattle, Portland, San Francisco and more all have established high end floating communities.   Sausalito's Floating Dock Community (pictured) was first founded in the 1800s and boasts the dock and the inspiration for Otis Redding's "Sitting on the Dock of the Bay." Posted on their community website is a great video documenting their community of homes and others in the Pacific Northwest. View a documentary on the Nautical Community.
We are also learning a lot a from the Dutch experience. Half of the Netherlands lies within a few feet of sea level and they have contended with inundation for centuries.  While not necessarily abandoning their battle with the sea, they are embracing a new ideology to work with it.  In a project currently under construction in IJburg (pictured below), 8 man made islands are being constructed covering 2 square miles. 18,000 homes are being built there, including 150 floating homes. The floating homes take only 4 months to build and site, whereas construction of an island takes 3 years. Discovery Channel produced a show on the innovative construction and installation process. Click the image below for a link to the archtecture website.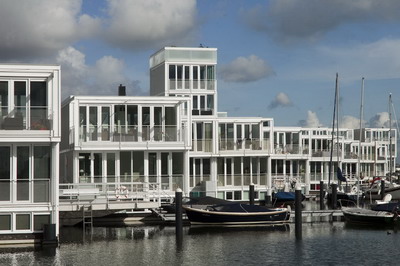 In Maasbommel an amphibious community was created.  The homes pictured below are built on sealed hollow concrete foundations that rests on land.  They are attached to anchored posts and in flood events, the houses rise up to 15 feet with the water level (via the Archimedes principle).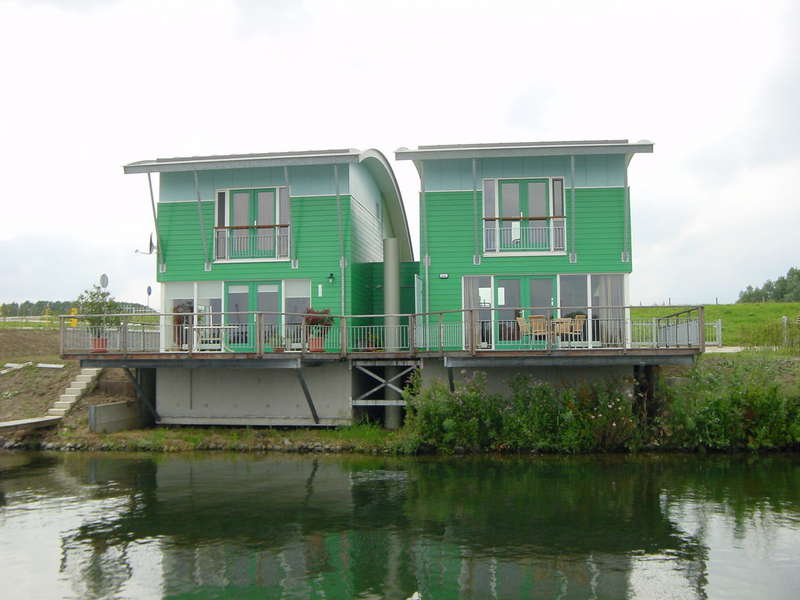 Following in the footsteps of the Dutch, UCLA's Architecture and Urban Design School designed a redevelopment home for New Orleans on the same principles.  The FLOAT home, sits on land, but with it's floating, chassis it will rise up to 12 feet during a flood event.
It was designed as a scalable prefab prototype that can be mass-produced and adapted to the needs of communities anywhere facing similar inundation challenges. The LEED Platinum "shotgun" house has a base made from polystyrene foam coated in glass fiber reinforced concrete. In the image below, a crane is mounting the base onto the pier structure, which will hold the home in place during a flood event. In addition to floating, the chassis contains equipment to supply power from solar panels and water collected from the rooftop collection system.
Houseboats also provide an adaptable and readily transportable option for water living. The propulsion system does however add to the cost. Inachus pictured below was designed by SanitovFloating Homes and was just displayed at the London Design Festival. With 2 floors, this 3 bedroom 2 bath highly efficient well sealed floating home is solar powered and boasts an interior green living wall . A Rainwater and grey water harvesting system is employed and a green roof is also planned for the terrace. Click the image below to view the photo gallery.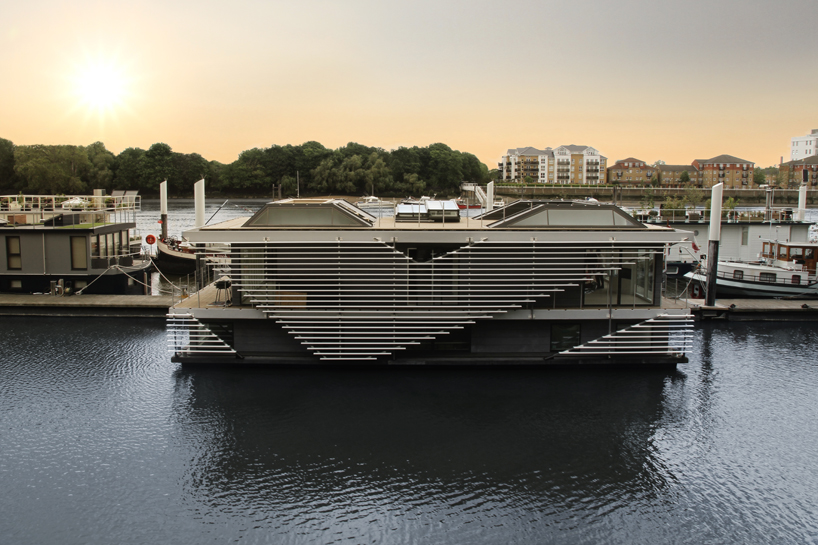 Learn more by taking an awesome virtual tour of floating homes at the Inspiration Green website. For more on Green building projects worldwide, take the TidewaterCurrent Global Green Building Tour.
---
Drink your way to a Cleaner Bay: Craft Brewers Contribute to Restoration Efforts
Posted 9.27.12 - By Carol Brighton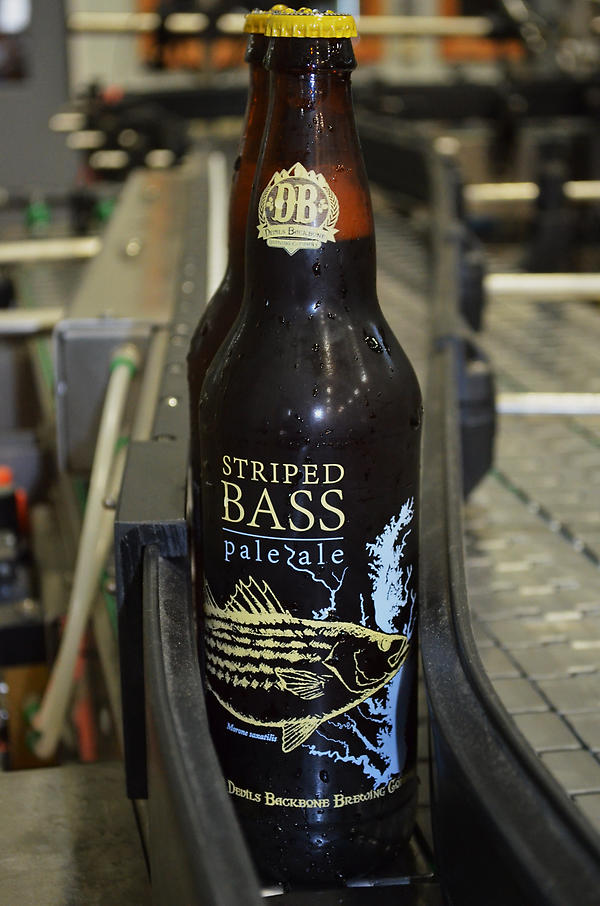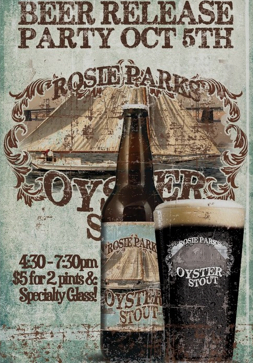 Several regional brewers are supporting important restoration efforts along the Chesapeake Bay. Devils Backbone located in Nelson, County, VA, just released their "Striped Bass Pale Ale" this Fall. Teaming up with distributors, the Brewery anticipates contributing some $30,000 to the Chesapeake Bay Foundation through sales proceeds this years. The CBF has numerous restoration projects ongoing in the region, including efforts on the the Lafayette and Lynnhaven Rivers. The beer is available in VA, MD and DC, but locally in the Tidewater area, the only current retailer is: Grape and Gourmet at 4000 Virginia Beach Blvd. in Virginia Beach.
Flying Dog's "Pearl Necklace," is brewed in Frederick, Maryland, using Virginia Rappahannock River Oysters and is available at local retailers including Total Wine. A portion of sales proceeds from the beer benefit the Oyster Recovery Partnership (ORP), a nonprofit that partners with the CBF on restoration efforts in Maryland. Flying Dog's goal is to enable ORP to plant at least 1 million baby oysters back into the Chesapeake Bay. Below is a link to an independently produced video production highlighting the process from fertilization at the University of Maryland Horn Bay Point Hatchery to release of the oysters on conservation reefs in the Bay.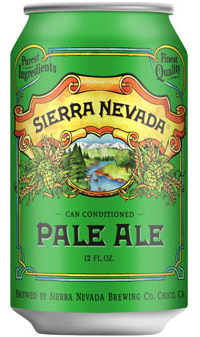 Although Sierra Nevada, is not a regional brewer, they deserve accolades here also. Not only do they produce a darn good beer in a sustainable manner, they too donate to Chesapeake Bay preservation through their save-the-rivers campaign. For every 12-pack of Pale Ale and Sierra Nevada seasonal beer purchased in the U.S. from June 1 through July 7, Sierra Nevada donated a portion of proceeds to river conservation-focused partners across the country, including the Chesapeake Bay Foundation. The company has distributed over $275,000 to river conservation groups over the last several years.
And last but, not least, is Fordham Brewery's "Rosie Parks Oyster Stout" which will be released next week in a special tasting at the Rams Head in Annapolis. The Dover, DE brewer prepared this dark roasty beverage using Chesapeake Bay oysters to benefit the restoration of an oyster dredging skip jack. The Rosie Parks was built in 1955 and will be exhibited at the St. Michaels, MD Chesapeake Bay Maritime Museum. A fund raising oyster fest featuring the Oyster Stout will be held on November 3rd at the museum. More about the Stout can be viewed below. After November 3rd the Stout will be available at retailers in MD, DE and DC.
---
Marine Propulsion – Is Wind back on the Horizon?
Posted 2 October 2012 - By Carol Brighton
With 21st Century technology, humanity may witness the resurgence of an age old transportation system:  wind driven propulsion. As highlighted in a post last summer, 2 vintage sailing vessels have been plying transatlantic trade routes.  With the potential of eco tourism and the branding associated with sustainable trade supporting these endeavors, it's very possible that more of these vessels will be put back into operation.  But, with delays resulting from unfavorable conditions, its unlikely that the age of sail that dominated marine transport for much of history will return as it once was known.   However, with new and innovative designs, wind may re-emerge as a significant nautical power source.
The latest iteration of Greenpeace's' Rainbow Warrior commissioned last year, was efficiently designed to fight environmental crime in a sustainable manner.  With clean electric drive engines for back up propulsion, the ship is mainly powered by a newly designed sail system.  2 Light A frame masts, allow the vessel to support a much larger sail capacity over similarly sized vessels.  And with a hull designed for the speed, the vessel can travel 15 knots at full sail.  Read more at the Greenpeace website.
Like Greenpeace, in more than just name, the Greenheart Project is also looking to commission a sustainable sailing vessel.  With another mission in mind, the team at the Japanese based non-profit, aims to create a small low cost zero emission cargo ship to serve needy coastal communities in developing countries.  The Greenheart conceptual vessel pictured below allows for beach portage and includes a cargo hold large enough to transport 3 containers.  With the beach roll on and roll off capability and a mast system that doubles as an articulating crane, the design is indeed ideal for trade in coastal communities lacking infrastructure.  In addition to propulsion by sail, the vessel includes a solar powered battery back up for the electric drive engine.  And like Greenpeace, the team is looking to fund the project through crowd sourcing   Visit the Greenheart website and view crowd funding video.
The real game changer, however, will be adoption of environmentally sound technologies in large ocean going cargo vessels.  Considering that 90% of international trade is moved by some 70,000 ships that burn low grade high polluting fuel, there is a real need for cleaner propulsion.  As noted in last month's post, progress is being made in several areas, including LNG and fuel cells, which are highlighted in links included in the Transportation collection.  As wind is a truly benign and readily available resource on the high seas, integrating it into a mix of propulsion technologies makes great sense.  As discussed last month, kites have been deployed to harness strong oceanic winds.   In tests, retrofitting large ocean going cargo vessels with kite sails similar to those used by kite boarders, fuel consumption was reduced by up to 30% in favorable conditions.
A concept ship designed at the University of Tokyo includes a new type of sail system that likewise would reduce fuel consumption by 30%.  The UT Wind Challenger has 5 lightweight telescoping sails made from aluminum and fiber reinforced plastic.  Each of the 164 foot sails can be maneuvered to take full advantage of the wind and electronically retracted when necessary.  And with wind and weather data readily available, it is possible to plot courses that take advantage of the best wind to reduce travel time and fuel consumption.   Researchers estimate that fuel savings over the course of ten years would pay for the increased cost of integrating the reticulating sails. A half size prototype ship is planned for additional testing. Watch the DigInfoTV video.
Another group with a noteworthy and truly sustainable concept ship in planning is B9 Energy.   The design utilizes "off the shelf" technology that is adequately proven and available for implementation today. The 100% fossil free powered ship is to be made from recycled (and easily recyclable) steel sheets.  Freestanding dyna rig sails controlled electronically from the bridge are expected to supply 60% of the ships propulsion requirements.  When needed, biogas combustion will drive ancillary engines produced by Rolls Royce.  The biogas fuel is derived from food waste and is produced by another division of the B9 organization.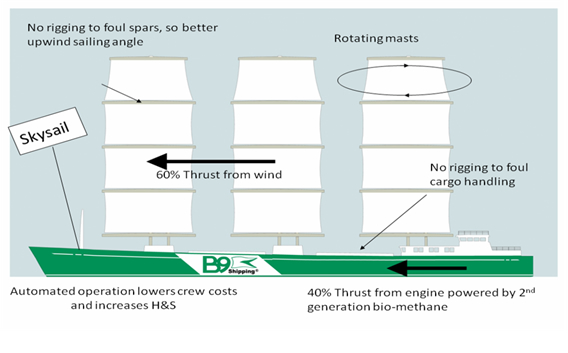 B9 Model Testing at Southampton University
There are numerous other innovative concept vessels being developed. As planning progresses on some of these projects, information will be posted.
---
Dominion Supports Eco Village Project at William & Mary
Posted 7 October 2012 - By Carol Brighton
A $45,000 donation by Virginia Dominion Power and the Dominion Fund will support student research on a proposed eco village on the William and Mary campus. With the funding, some 80 students and faculty will work on an environmental assessment and management plan. As the students work to develop a plan to integrate energy efficient buildings and renewable energy into the site with the least impact on the natural habitat, they will learn critical skills in geospatial assessment and environmental impact analysis techniques. Reposted below is an article on the plan written in December 2011.
Viability of an Eco-Village Explored at William and Mary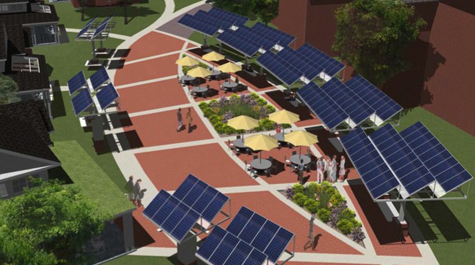 The college already has several LEED Gold certified buildings on campus and is planning a new Greek row consisting of 11 buildings that will be certified silver.  A group of forward thinking students, faculty and staff are looking to do more.  They want to see a resource efficient and sustainable eco-village on campus.   Their idea is to develop a site that showcases different features and can be used as a learning tool – where analysis and comparison of actual and perceived benefits can be studied.
The community would replace an existing student housing complex and incorporate passivhaus design concepts into  7 homes and a coffee shop.  All the units would be highly insulated, well sealed and designed to take advantage of natural light and passive heating and cooling.  In addition to geothermal systems, solar hot water systems would be included in some units.  The homes would be supplied by electricity generated by 183 solar panels in a solar plaza which is expected to reduce grid provided energy consumption by 75%.  With low flow plumbing fixtures, water use would also be reduced.  A grey water system may be employed in one unit and rain water would be harvested for irrigation on other units.   The site would also be developed to minimize runoff.  One unit will likely sport a green living roof and pavement that is water permeable will be laid.  Landscaping would include native vegetation and rain gardens.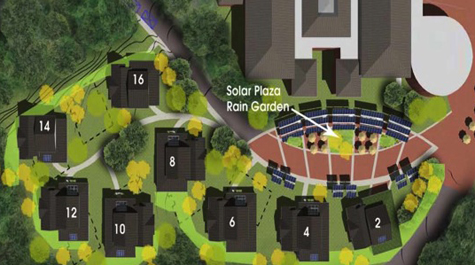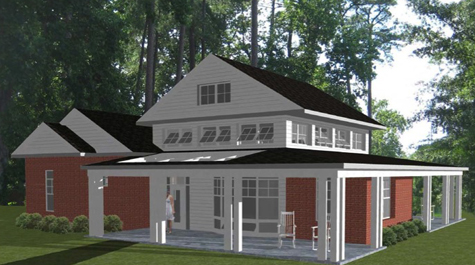 The idea of a living machine or an ecologically engineered waste water treatment system is also being considered (images can be viewed on the Global Green Building Tour).  The projected cost of the project is $5.6 million dollars.  Funding has not yet been arranged.  Visit the William and Mary website for more Information.  By Carol Brighton 12/17/11 - Images courtesy of William and Mary.
Read more about green building in the region in the Winter 2011/2012 Tidewater Current and the current Sustainble Design/Green Building page. For news about innovative and sustainable building technologies in general, visit the Tidewater Current Snip.it collection.
---
Norfolk Home to Virginia's Largest Solar Array
Posted 10.19.12/Updated 10.23.12 - By Carol Brighton

With just over a 2 MW capacity, the solar facility sited at Monkey Bottom at Norfolk Naval Station is Virginia's largest.  It is about 4 times the size of the 500+ kW installation atop a Northern Virginia IKEA store recently publicized as the largest in the state. Blue Sky Group, the Venice, FL system designer who assisted Newport News based Bay Electric on the project, has completed the mounting work on the 8,600+-panel installation.  According to Naval Station Media Relations Officer Tom Kreidel, the system comprised of American made panels from SolarWorld is scheduled to go on-line by the end of the year. 
The expansive 10 acre array is visible when traveling east bound on the Hampton Roads Bridge Tunnel. More will be posted on this monumental project as information becomes available.
Check the Archive for Previous Posts
All Rights Reserved. Disclaimer.