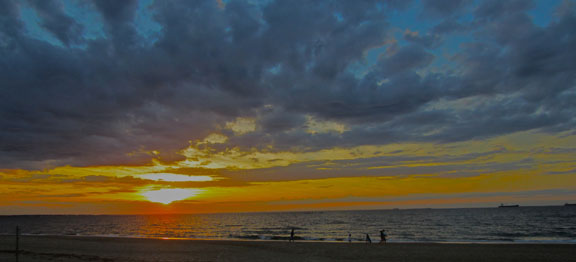 Tidewater Current | Fall 2012
Transmitting news and infomation about sustainable endeavors in Coastal Virginia and beyond. Updated Weekly.
Building and Infrastructure:
For the most up to date and more illustrated news, visit the TidewaterCurrent Snip.it collection.
LOCAL & REGIONAL NEWS (scroll down to see more news):
11.30.12 - 200 square foot homes prop up in DC as aspiring homeowners look for their piece of the American dream after the housing crisis - dailymail.co.uk. Stronghold, a community of tiny houses in Washington, DC is offers affordable city living. "The group have transformed the concrete abandoned lot into a grassy area for the stall-like homes. They also have plans to construct a garden area and plant 10-15 trees to surround the lot. The group of homes will all circle an open, grassy area with a picnic table open to the community."
Team Tidewater Solar Decathlon Entry to be discussed 11.20.12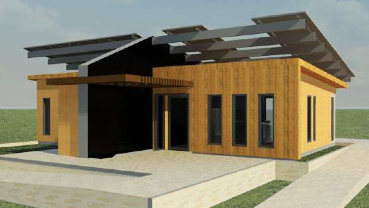 Students and faculty from Old Dominion and Hampton Universities were once again selected to compete in the Solar Decathlon, an international solar home design competition. Plans and progress on their entry "Canopy" will be discussed at the next meeting of the Hampton Roads Solar Group Tuesday, Nov. 20 at 7:30 p.m. at the Rupert L. Sargent Building in Hampton (1 Franklin St. – 1s t floor conference room).  Join the group to learn more about this exciting endeavor. This event is FREE. Directions can be found at: http://www.hampton.gov/medalofhonor/index.html.
Also Tuesday, November 20 - HRGBC Event - Tour of LEED Platinum designed College Park Elementary School - 6 -7:30 p.m. - $ Fee - Info/Register. A green vegitated roof provides insulation and filters rainwater harvested for toilet flushing and heated through a solar thermal system to provide in floor hydronic heating. The site includes an integrated wetland and rain garden to treat runoff and fosters a natural ecosystem/water cycle learning opportunity.
---
Adapting the Built Environment for Sea Level Rise - Tidewater Current | Fall 2012 - Amphibious and floating homes could become more widespread in the future.
Dominion Supports W & M Eco Village Project - Tidewater Current | Fall 2012 - A $45,000 grant from the utility and foundation will support student and faculty projects to assess eco village plans.
Conceptual Rendering of the Chesapeake Bay Foundation's Pleasure House Point Center
Chesapeake Bay Foundation to Create "Living Building" in Virginia Beach - CBF . As noted in the linked press release, a living building must meet stringent energy, water, site standards and more. The only issue here will be the site, specifically to qualify for the standard, the site must be a redevelopment of a brown or greyfield and not be part of a sensitive ecological habitat or within a 100 year flood plain. The building will be constructed upon spoils from dredging some 40 years ago and as an education/interpretation center highlighting the coastal environment, there are siting exceptions that allow for certification.
With Shining Views, Poquoson Community Focuses on Sustainability - TidewaterCurrent.com. Poquoson community was just featured in the Hampton Roads Solar Tour this month. Here's a link to a post written about the Solar Atrium homes last year.
11.3.12 - Shedding light on solar energy in Hampton Roads - hamptonroads.com. A stunning and sustainable home on the Lynnhaven River in Virginia Beach. Another snip (http://snip.it/snips/333821) highlights the largest solar array in Virginia sited closeby at the Norfolk Naval Station.
10.18.12 - Jennette's Pier honored as a 'green' facility - hamptonroads.com. OBX pier awarded LEED Platinum - "The pier has its own reclaimed water system, geothermal capabilities and three wind turbines that supplement its power usage."
10.14.12 - Large harbor floating wetland project stirs debate - baltimoresun.com. A marina owner in the harbor, who cannot rent space wants to take on this project to improve the harbor. Environmental groups and scientists support the project as it would restore habitat and remove nutrients and likely impact water quality, but regulators are holding this project up.
10.10.12 - Solar Decathlon Home Hits the Market - ecohomemagazine.com. Appalachian State's entry in last year's Solar Decathlon won the People's Choice Award in the Competition and is now being marketed as modular construction by Deltec Homes. Deltec will pay royalties from the sale of the Net Zero "Solar Homestead" homes to the University for sustainable design and research projects. Photos and links inlcuded.
10.9.12 - Fairfax County woman builds livable 'tiny house' as part of sustainability movement - washingtonpost.com. Environmental Management student builds mobile tiny (210 sq. ft.) house. Can be totally off-grid or use RV hookups.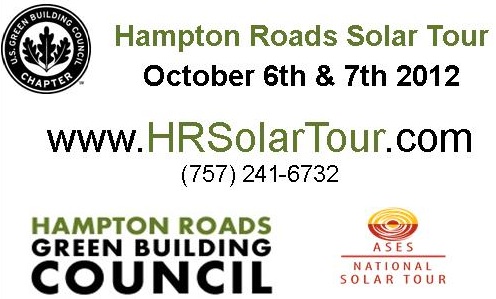 FREE Hampton Roads Solar & More Tour - Saturday & Sunday October 6 & 7. In conjunction with the American Solar Energy Society's National Home Tour, folks across the country including Tidewater will have the opportunity to view and investigate local green building technologies incorporated into homes and businesses the first weekend of October. This free local tour organized by the Solar Group of the Hampton Roads Green Building Council is scheduled for two days - Saturday October 6 for sites on the middle Peninsula and Southside and Sunday October 7 for sites on the Peninsula. Approximately 30 locations are featured on the tour. In addition to passive solar design, PV and solar thermal sytems, attractions include a wind turbine, green (living) roofs, water catchment systems, ICF construction, spray foam insulation, and infloor radiant heating. This is a self guided tour. Simply visit the HRSolarTour website and register to get maps, addresses and detailed descriptions of the tour sites. Go to HRSolarTour.com.
9.29.12 -Building Blocks for Sustainable Communities unveiled by the EPA - hydrogenfuelnews.com. EPA program initiated to assist communities develop green infrastructure and clean energy initiatives that protect air and water quality including bike share programs. Communities can apply for assistance. until Oct. 26. 44 communities will be selected.
9.20.12 - A Quaker Meeting House That's Friends With Nature - earthtechling.com- Washington, DC - This LEED platinum renovation incorporates ceiling planes which allow natural daylighting.
9.11.12 - Living Machine System Selected for Wastewater Recycling at New Pennsylvania School; Largest On-Site Wastewater Reuse SystemPermitted in State of Pennsylvania - marketwatch.com. Ecological water treatment employed at Evergreen Elementary designed and installed by Charlottesville, VA company Worrell Water.
9.5.12 - Fourteen Local Governments Receive Technical Assistance for Green Infrastructure Projects - nfwf.org. City of Hampton, Virginia - The City will adapt the Virginia highway beautification program to include bioretention and other innovative stormwater practices in medians and rights-of-way. The City of Hampton will service as a demonstration for a model to be scaled up throughout Virginia and elsewhere.
9.4.12 - Campus RainWorks Challenge - water.eap.gov. EPA program invites university student teams to submit green infrastructure plans for cash awards.
---
MORE NEWS: Please visit the TidewaterCurrent Sustainable Design-Green Building Snip.it Page for current news and many more illustated clips.
12.4.12 - B.C. Home Certified By Living Building Challenge - earthtechling.com. Cob construction. "first residence ever to be certified under its Living Building Challenge program....The 2,500-square-foot building—which houses Ann and Gord Baird, their two children, and Ann's parents—employs non-flush composting toilets as well as systems for solar water heating, rainwater collection and grey-water filtration for reuse as irrigation. About 80 percent of the food consumed by the family is grown and processed on site."
12.2.12 - A Neat & Efficient House Design - efficient-life.com. Rotating home in Canberra Australia will follow the sun. "the rotation uses minimal energy – about 100 watts, which is about the same as a bright light bulb."
11.30.12 - Château Hemp? | News | News & Features | Wine Spectator - The new Maris winery is built almost entirely from large, sturdy "bricks" of organic hemp straw. Those bricks not only reduced carbon emissions from construction, they also continue to capture carbon dioxide from their surroundings.
11.30.12 - The Aussie Solution For Rainwater Harvesting In The City - earthtechling.com. Innovative rainwater storage system developed down under takes advantage of floor and wall space for water storage allowing for more rainwater capture in urban areas.
11.29.12 - World's Largest Modular Prefabricated Tower Will Be Built at Atlantic Yards In Brooklyn and I Eat My Words - treehugger.com. "The solution to producing high-rise modular buildings came, in part, from the ability to create computerized three-dimensional models that allowed them to test the integrity of the engineering, Christopher Sharples of SHoP Architects said."
11.27.12 - Help Fund WHIM Architects' Island Made Entirely Of Coastal Trash! - archizer.com. WHIM architecture is kickstarter funding a project to create a floating island home from coastal trash. Their plan is to "mold collected plastic into hollow blocks on which the island will float. The prototype will test exactly how strong these blocks will be. The home will then collect energy from solar panels attached to the roof as well as from the movements of the surrounding waves. Seaweed will be cultivated for food, and fabric and compost will be collected and used to create fertilizer so the islanders can begin to grow their own agriculture." Lots of images and a link to the kickstarter page.
11.26.12 - Looking to the Past for the Future of Ventilation - designbuildsource.com.au. "Yazd's buildings are often naturally ventilated using the Wind Tower principle, a roof mounted device that channels fresh air into a room under the action of the wind pressure while simultaneously drawing air out of the room by virtue of a low pressure region created downstream from the element. It does this regardless of the direction of the wind and without mechanical assistance"
11.22.12 - Vancouver Will Pave Its Streets With Recycled Plastic - earthtechling.com. "the process involves 20 percent less fuel and will lead to savings in the long term. Apparently, the new recycled ingredient also allows crews to apply asphalt on cool days, which wasn't possible before because it would cause the paving material to seize up."
11.20.12 - M:OFA Unveils Air-Filtering Green Office for the Delhi Pollution Control Committee - inhabitat.com. Delhi Pollution Control Committee's "new office office complex will use both passive and active strategies to reduce energy use, and it will soak up polluted air through the walls, generate its own energy through photovoltaics, collect rainwater from the roof and process black and grey water for further use."
11.19.12 - A Shape-Shifting, Heat-Sensitive Metal Lets Buildings Breathe - fastcodesign.com. "Developing buildings that self-regulate their temperatures--what's known as homeostatic architecture--is more difficult than it sounds, and the perfect, uncompromising homeostatic construction remains one of architecture's holy grails." A Princeton student has developed a thermobimetal material and installed a structure in LA for testing and a project is planned in China for a home coated with a skin of the material. The structure changes changes with the environment to block or let in light and air. Video included.
11.16.12 - US Greenbuild International Conference and Expo 2012 San Francisco - inhabitat.com. "Filterpave is a paving material made from 96% ground glass that is bound with an acrylic binder. The surface is laid in the same manner as concrete, and it's available in several vivid colors. What makes the surface so green is its ability to let rain easily percolate through—making parking lots, patios and walkways storm water management systems."
11.16.12 - Canadian firm's green walls filter, freshen workplace air - theglobeandmail.com. A living wall system integrated into a building's air circulation system removes harmful pollutants volatile organic compounds and formaldehyde."Unlike conventional green walls, in a living biowall the plants' bare roots are exposed to the air that's pulled through the wall. Microbes on the roots ingest pollutants in the air....Rainwater is recycled from a roof catchment and runs down the wall, providing the nutrients the plants need to thrive."
11.16.12 - Greening Sydney: The New Urban Forest Strategy - designbuildsource.au. "the city will grow its urban forest and green canopy by up to 50 per cent by 2030 and maximise the environmental, economic and social benefits of trees and plants to the community." With all the tree loss in NYC due to Sandy, the City will likely have to implement an urban forestry initiative.
11.12.12 - Beintween Recycles Old Car Tires Into 'Matireal' for Permeable Park Pathway - inhabitat.com. Great permeable pathway product. "Beintween's founder Keith Hayes is currently working with the Department of Natural Resources, the Mayor of Milwaukee, and the City's Recycling Manager to divert tires, create local jobs, and implement their 'creational trail."
11.15.12 - Chicago's urban farm district could be the biggest in the nation - grist.org. "In the coming weeks, the city's planning department is expected to approve the creation of a green belt with a strong focus on urban agriculture within the neighborhood of Englewood. The plan is an element of Chicago's Department of Housing and Economic Development's (DHE) Green Healthy Neighborhoods initiative, designed to shepherd and foster redevelopment in 13 square miles of the South Side. Years of disinvestment and population decline have left the area riddled with 11,000 vacant lots totaling 800 acres." See more clips on urban agriculture in the Food - Sustainable Production snip. it
11.15.12 - Gainesville man built his house out of 12 shipping containers | firstcoastnews.com - Great Video Tour of $200,000 LEED Platinum/Net Zero home made out of 12 shipping containers. Owner gets a check back for about $300/month and will be able to pay off PV system in about 5 years.
11.9.12 - A Sleek Pre-Fab Design For The Modern Homesteader: Scientific American - scientificamerican.com. More on Appalachian State's Solar Homestead, which won the the popular vote in the last Solar Decathlon in Washington, D.C., and is now being marketed as a prefab by Deltec Homes. The net zero homes cost $52,000 plus shipping and can be assembled for about $7,000.
11.8.12 - SOM's net zero New York school aims for "ultimate sustainability" - gizmag.com. 444 Student Primary School on Staten Island will be covered on on the south and rooftop with solar PV panels to provide all energy needed. The building is expected to be completed in 2015.
11.2.12 - Iskandar Malaysia - the green mega-city rising above Singapore - guardian.co.uk. "Occupying an area the size of Luxembourg, the site is expected to have a population of 3 million by 2025, living as an ultra-modern "smart metropolis". Energy will be provided from renewable sources, transport will be publicly provided, waste will be diverted to other uses, and the city is planned by the Malaysian government as a showcase to be copied on a bigger scale across the region."
11.2.12 - Ecosystem Marketplace - Hurricane Sandy Highlights Need To Develop Green Infrastructure - Creating natural barriers and filters is less expensive than big engineering projects and there are numerous resulting benefits, including possibly lower municipal insurance rates for localities that take on green infrastructure programs.
10.30.12 - Solar Solution: Renovation showcases solar potential - solarnovus.com. Storing solar thermal heat generated in the summer, provides winter heat. "The way it works is the tank is heated all summer with the solar collector, and that heat is retrieved in the winter to heat the building. A ventilator brings in fresh air, warms it, and circulates it throughout the building. Quirk said they've been through one winter with the heating system and it kept the house at 68F during the day and 65F at night with most of the heat provided by the thermal storage tank and the thermal solar collectors, with an additional 3500kWh ($600) of electrical backup."
10.29.12 - Gray Goes Green: First U.S. Net Zero Senior Community Opens in Texas - cleantechnica.com. 2 wind turbines and solar panels expected to provide all energy in El Paso's Paisano complex.
10.29.12 - Nice Shades: SERA Architects Update An Old Office Building In Portland - treehugger.com. "The building uses 55–60% less energy than a typical office building. Its efficiency is derived in part from an exceptional façade design with shading devices...It also has a dramatic tilted hat of solar panels, has radiant cooling and heating, 160,000 gallons of rainwater storage (created out of an old rifle range) and that solar PV hat delivers 180 KW. "
10.27.12 - Changing Skyline: High-quality homes for low-income Philadelphians - philly.com. Homes built for $129/sq. ft. are "first in Pennsylvania to be certified by the demanding International Passive House Institute." With energy costs near zero, the families with incomes of $25,000 will clearly benefit.
10.26.12 - Bicycling, Transit, & Public Space Initiatives Boost Local Economies & Businesses, New Report Finds - cleantechnica.com. "A new report released on Wednesday by New York City's Transportation Department finds that one clear and perhaps under-the-radar benefit of bicycle lanes, pedestrian plazas, and rapid-transit bus systems is that the businesses that are located near this infrastructure often experience a significant increase in customers."
10.25.12 - Bullitt Center's Green Amenities include Composting Toilets - seattlepi.com. Seattle's "Living Building Challenge" Bullitt Center is projected to be the most sustainble building in the world when completed. "By setting the example that a six story building can successfully incorporate the use of composting toilets, the Bullitt Center hopes to establish new standards for the common office building."
10.25.12 - UniverCity plans first 'living neighbourhood' - sfu.ca. British Columbia, Canada - Simon Fraser University plans to develop an en entire neighborhood based on "Living Building Challenge" standards (reckoned to be the most stringent in sustainable design).
10.25.12 -The Costs and Benefits of Green Roofs - sustainablecitiescollective.com Good article - While expensive upfront, the total life cycle cost is often lower for a green roof than a traditional roof. A vegetated roof reduces heating and cooling costs, improves air quality and stormwater runoff is retained cooling the surrounding atmosphere and can be captured for reuse. Author quantifies benefits and notes that "The Target Center Arena Green Roof retains and evapotranspires more than a million gallons of water per year"
10.22.12 - Building up, not selling out: Can denser cities save family farms? - grist.org. Interesting - By instituting "transfer of development rights" programs, cities can increase inner city density and preserve rural property. In exchange for say building a taller building than allowed, the developer puts money into a fund that buys the development rights in outlying rural areas which help stop sprawl and preserve farm land and open space.
10.19.12 - Balsa bridges, with a twist - phys.org. "Besides being lighter, this composite construction is not subject to corrosion, the main cause of deterioration of concrete structures...Prefabrication in a factory further increases its quality, improving safety and longevity, while speeding up the onsite installation."
10.18.12 - Is Off-the-Grid Living the Future of Housing? -- AOL Real Estate - "Currently, there are already 750,000 off-grid households in the United States, with that number increasing 10 percent each year, he said. Companies like GE and IBM have gone so far as to predict that within a decade, up to half of American homes will be generating their own renewable electricity."
10.15.12 - MCRD's ecologically-friendly water treatment system - cbs8.com. Charlottesville's Worrell Water installed an ecological waste water treatment system referred to as a "Living Machine" at the Marine Corps Recruiting Depot in San Diego. The ribbon cutting ceremony was this week for the system which uses plants to treat wastewater.
10.14.12 - Autarkhome: Sustainable Floating Passivhaus - jetsongreen.com. Self sufficient floating home produces all energy on site and captures and treats rainwater for use. Will have to investigate beyond this piece to find out how waste water is handled. After building and showing the prototype, there is big demand in the Netherlands for this home design.
10.12.12 - The Diamond Building: A Jewel of Green Design - designbuildsource.com.au. Top Prize at ASEA Energy Awards 2012 - The self shading building in Malaysia reduces the transfer of heat through solar radiation while providing for natural lighting. A natural cooling system embedded in the concrete floor slabs cools the building during the night and thereby brings down daytime temperatures. And rainwater harvesting provides 70-80% of water consumed.
10.10.12 - What do we mean by green? Chicago's Greenest Street - wbez.org. Cermak Road, Chicago - Greenest Street in America. With solar and wind powered LED lighting along roadways made from recycled materials and 80% permeable, storm water runoff and energy usage is significantly reduced. In addition, some of street pavers are made with photocatalytic cement, which breaks down air polluants and thereby cleans the air.
10.10.12 - Paradigm is a Sustainable Prototype Prefab - jetsongreen.com. Constructed by Seattle's Method Homes, this prefab includes "a super-insulated envelope, wooden cladding and decking, rooftop solar, a ductless mini-split HVAC system, HRV ventilation, bamboo floors and cabinets, LED lighting, home automation, rainwater harvesting, a greywater system, and a composting toilet, etc."
10.8.12 - Cargo-tecture - Savannah Magazine. " Look to purchase a container for $500 to $1,000 and convert it to livable space for $73 to $90 per square foot. Compare that to $200 per square foot on average for new construction."
10.5.12 - PSU Professors Make Affordable Green Portable - opb.org. Gervais school district plans to purchase 20 green portable classrooms developed at Portland State University. A little pricier than conventional portables, $75,000 versus $60,000, they are light filled, thermally comfortable and well ventilated inviting spaces. Instead of dreading a portable room assignment, kids may seek assignment to these classrooms.
10.4.12 - Australia's first bushfire resistant straw house to be built - phys.org. Joost Bekker has been building green vegetated straw bale structures in Australia and when commissioned to build one in a fire prone region, he had the design tested for its ability to withstand fire. It performed, showing it is fire resistant.
10.4.12 - Multi Use Infrastructure at Its Most Innovative - dirt.asla.org. NYC Water treatment plant and public park/golf course combined. Design integrates stormwater management with public amenities.
10.3.12 - Living Future Institute starts label for green building materials - sustainablebusinessoregon.com. A database of Declare-approved products will be available online in a database.
10.2.12 - L.A. Bulldozes Foreclosed Homes To Create More Urban Green Space - fastcoexist.com. "Under its 50 Parks Initiative, L.A. is converting 50 foreclosed homes--often with bulldozers--into small pocket-sized parks in neighborhoods most in need"
10.2.12 - Cleaning the urban environment with "sustainable backyards" - switchboard.nrdc.org. Chicago program provides a 50% rebate for installation of native trees and plants, compost bins and rain barrels.
9.30.12 - Infrastructure Sustainability Rating Scheme Launched In SA - designbuildsource.com.au. South Australia has developed an infrastructure rating system to measure sustainability and drive innovation in land use planning.
9.28.12 - Missouri's 'Dancing Rabbit' Ecovillage (Off the Grid) -- AOL Real Estate - " Small village made up of unusual-looking earthen structures. No-frills homes constructed entirely from recycled materials, reclaimed lumber, straw and cob; homes outfitted with solar panels or small wind turbines. ...Since the Ecovillage's establishment, its residents have planted over 10,000 trees onsite"
9.27.12 - Britain's first carbon negative street - where toilets are flushed with rainwater and there is even a hotel for bugs - dailymail.co.uk."The carbon negative homes generate more energy than they need and are made of natural materials like timber, hemp insulation and lime render....communal biomass boilers burns wooden pellets to provide heating and hot water for the residents"
9.27.12 - Facades that Reverse the Signs of Carbon - designbuildsource.com.au. 'Carbon-cleansing' design included in the retrofit concept for Chicago's Marina Tower. The facade is aesthetically pleasing and provides insulation in addition to removing pollutants from the air.
9.27.12 - Solar Decathlon: German Team Takes Top Prize In Engineering - earthtechling.com.
SD Europe's Videos on Vimeo - Solar Decathlon Europe Videos - Open September 14-30, 2012 - Casa de Campo de Madrid
9.20.12 - Net-Zero Energy Homes in Grow Community - jetsongreen.com - Bainbridge Island, WA - "The eight-acre project is the first residential One Planet Community in North America (issued by U.K. non-profit BioRegional). However, in addition to this recognition, the aim is net-zero homes and an entirely net-zero energy community by 2020."
9.17.12 - Chemical-free swimming pools are teeming with life | SmartPlanet - Instead of chemicals, plants and microorganisms flourish and filter nutrients from pool water. Includes a photo gallery.
9.17.12 - Micro-Algae Tested for Green Building Facades - ecohomemagazine.com. New facade system developed in Germany uses louvers that grow micro-alge. Algae in the bioreactors (louvers) grow faster in bright sunlight creating needed shade and reducing cooling demand. The algae can also be harvested for energy.
9.15.12 - Sanitov Unveils Eco-Lux Floating Home at This Year's London Design Festival - inhabitat.com. Wow. With 2 floors this 3 bedroom 2 bath highly efficient well sealed floating home is solar powered and boasts an interior green living wall while a green roof is also planned for the terrace.
9.14.12 - Indian River School District hopes to save money with thermal energy storage plant - tcpalm.com. Vero Beach, FL - "With thermal energy storage, water is frozen at night and stored in large tanks. During the day, the chilled water is pumped back through the system to operate the school's air-conditioning." The system will cost $3.5 million to install and is expected to save over $30,000 per month which equates to an 8.6 year payback.
9.14.12 - Can Integrated Photovoltaics Boost The Construction Industry? - designbuildsource.com.au. Pike Research reports that the BIPV market will quadruple by 2017.
9.11.12 - MMSD chief invited to White House to talk green - JSOnline - Milwaukee planner will talk about his vision for green infrastructure, including living and permeable urban landscapes that minimize stornwater runoff and limit pollution of waterways. His hope is that some kind of federal tax credit will be developed to encourage community participation, like those offered for energy efficiency or renewable energy projects.
9.7.12 -McGee Salvage House in Berkeley, CA - lwarc.com. "Over 100 salvaged car roofs cover the upper walls of this house. The roofs were sawed out of grey cars left for parts in local junk yards. The lower walls are clad in poplar bark, a waste product from the furniture industry of North Carolina. The awnings are fabricated from junked Dodge Caravan side windows."
9.6.12 - Is London Serious About Building a Network of Elevated Bike Lanes? - theatlanticcities.com. SkyCycle paths (a cycling highway) envisioned by Sam Martin of Exterior Architecture has received attention from the Mayor of London and meetings are moving forward with the company that owns the city's overground infrastructure. More on cycling in Clean - Eco Transport collection.
9.5.12 - Japan's Omotenashi House to Promote a Self-Sufficient Lifestyle at 2012 Solar Decathlon Europe - inhabitat.com. Solar provides all the power and food too. A green curtain surrounds the structure, providing shade and produce. A veggie factory is also incorporated indoors on shelving in a wall with LED lighting and a rice paddy is included instead of a lawn
Check the Archive for Previous Posts
All Rights Reserved. Disclaimer.