Tidewater Current | Summer 2012
Transmitting news and infomation about sustainable endeavors in Coastal Virginia and beyond. Updated Weekly.
Features:
Sustainable Port and Shipping Initiatives | Eco Industries Promote Sustainable Shipping technologies  | Solar Touring | Bay "smart buoys" give real-time weather info | Wind to Power Beach Manufacturing Plant | DuCard Winery - Virginia's Solar Factory | UM purchases underwater drone for coastal studies | Alternative Fueling Station Locator & Vehicle Guide
Sailing Into a Sustainable Future
Posted - 21 June 2012 - by Carol Brighton
With the return of sailing cargo ships, the testing of biofuels in Navy vessels and last month's completion of a year and a half long circumnavigation of the globe powered entirely by the sun, we are witnessing the transformation of the shipping/water craft industry. Whether you look at commercial shipping and transport, military vessels or recreational/pleasure craft, noteworthy examples of sustainable technologies are being deployed. In the posts that follow, information will be provided on sustainable programs, cleaner fuels and renewable energy systems that are being utilized to power vessels as well as designs or devices that are being used to increase fuel efficiencies.
---
The World Ports Climate Initiative and the Sustainable Shipping Initiative
The shipping industry moves 90% of the worlds' trade. Some 70,000- 90,000 ships operate in the world's oceans burning 280 million tons of low-grade pollutant packed fuel annually. Up to 5% of global total carbon emissions come from this trade and with international trade expected to grow, that number will increase if changes are not made. Unlike other industries, the shipping industry has seen little scrutiny by regulators. Fortunately, a group of global companies have organized and created the Sustainable Shipping Initiative and 55 ports are participating in the World Ports Climate Initiative. Instead of waiting to see what regulators may have in store for them, the industry is being proactive and initiating programs to become more sustainable.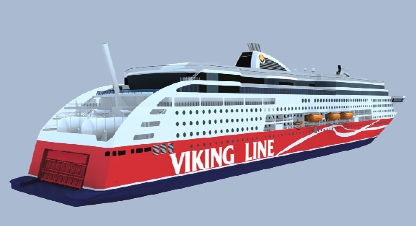 The World Ports Climate Initiative (WPCI) looks to limit Green House Gas emissions and improve air quality in and around ports. 55 key ports are participating. One focus of the group is to explore and promote the adoption of Liquefied Natural Gas (LNG). Burning LNG would eliminate sulfur emissions and drastically reduce particulate matter as well as cut NOx by 80-90% and CO2 emissions by 26%
. In Sweden the Viking Lines' newest ship will be fueled by LNG and will begin operation in January 2013.
To reward carriers for efforts to reduce emissions, WCPI has created an Environmental Ship Index to identify ships that perform at eco-friendly standards. Based on emissions reductions, a score is assigned. At participating ports, carriers can then enjoy reduced port fees. A number of European Ports have joined the program and the Port of Los Angeles, the first to participate in North America and the Pacific Rim, will initiate the policy July 1 (info). Operators can earn an incentive ranging from $250 to $5,250 per ship call. Los Angeles Port officials estimate that up to 30 percent of the ships calling at the Port are expected to qualify for the incentives. With that level of participation, it is anticipated that diesel particulate matter emissions will be cut by 16 tons within the first year. More info.
Meanwhile, here in Tidewater, The US port of Virginia is expanding its Green Operator (GO) program to provide incentives to ocean carriers that burn ultra low-sulfur fuel or use alternative power technology while their vessels are moored at port authority-owned terminals. Maersk Line will be the first ocean carrier calling on Virginia to take advantage of the incentive. The fuel-switch initiative will run for 13 months and involve 41 Maersk Line ships making more than 210 port calls. Through the program, Maersk will receive a $300,000 incentive from Virginia Port Authority (VPA).
The Sustainable Shipping Initiative represents a global integrated cross-industry group of shipping companies and key stakeholders like customers and financiers. Member Jacob Sterling, head of Climate and Environment for Maersk Line, recently noted that "Climate change is a huge challenge for all, and we believe that shipping is not only part of the problem, we can also be part of the solution". And Norfolk based Maersk has not just been talking the talk but walking the walk. They have tested an algae biodiesel product in one of their ships. In January the container ship Maersk Kalmar traveled 6,500 nautical miles from Bremerhaven, Germany to Pipavav, India, the ship used 30 tons of biofuel blends ranging from 7% to 100% with "very few problems," reported Sterling (info). At current fossil fuel prices, it may be some years before algae biofuel is competitive, but if environmental, economic and security benefits are factored in, it could be competitive now. As a renewable resource that consumes carbon as it grows (and potentially water pollutants if grown at water treatment plants), algae biodiesel is considered carbon neutral. And DoT tests show that algae blends are cleaner burning than fossil fuels with reductions in particulate matter, sulfur, nitrogen and carbon. Some Navy vessels will be burning the fuel during its Green Fleet event this summer. But unless the cost of the fuel drops or the price of fossil fuel skyrockets, the Navy's continued testing of this resource is unlikely as Congress has been banned the DoD from making fuel purchases at more than conventional prices.
Bigger and better ships are also being built.  Maersk Line recently signed a contract for 10 of the world's largest, most efficient container vessels with an option to buy another 20.

Aptly named the Triple-E for Economy of Scale, Energy Efficiency and Environmental Improvement, the ships produce 50% less CO2 per container moved than the industry average on the Asia – Europe trade route.  We could begin seeing some of these ships as early as next year.  Delivery is to take place between 2013-2015. 
---
Eco Industries Promote Sustainable Shipping technologies  
For eco friendly companies, sustainable shipping is integral to their business platform.  With their success, the demand for sustainable transport has inspired the incorporation and reemergence of some noteworthy, if not surprising technologies.  Some technologies can be readily adapted in existing vessels.  Wind turbines, solar panels and even kites can easily be customized to conform to needed configurations.  
In 2009 Toyota began shipping the Prius to Long Beach on the Auriga Leader which was outfitted with 328 solar panels and retrofitted to run on low sulfur diesel.  Likewise, the Nissan Corporation, wanted cleaner transport for the all-electric Nissan Leaf.  The Nichioh Maru, pictured, is an energy efficient car carrier that began operating in Japan in January.  With 281 solar panels fitted to the carrier's deck, a very efficient electronically controlled diesel engine and low friction coating on the hull, the ship will use 13 tons less fuel per round trip on a domestic service which operates twice per week and equates to an 18% reduction in CO2 per round trip.
GE another company focusing on clean energy employed skysails on a vessel carrying equipment to Turkey (pictured).  The SkySails system still under development can reduce fuel consumption 10 to 35 percent annually and thereby reduce freight costs.  Cargill a member of the Sustainable Shipping Initiative has contracted to test the technology this year.
With a pro-active environmental policy, Stena Lines is pursuing improvement projects to save fuel and reduce emissions.  Last summer  2 Vertical axis wind turbines from NYC's Urban Green Energy were installed on the Jutlandica ferry servicing the Gothenburg-Fredrikshaven route.  Pictured below, the VAWTs not only provide energy, they reduce resistance and fuel consumption  (80-90 tons per year).  According to a company official this equates to the annual  oil needed to heat 28 homes.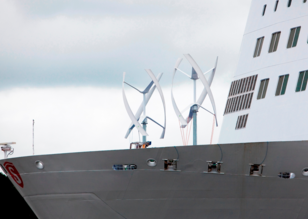 Unlike the technologies already discussed, other innovations cannot be readily adapted for use on existing ships and require design and development.  When Enercon, the world's 3rd largest wind turbine manufacturer, needed a ship to transport their equipment, they naturally wanted one that would utilize wind power.  They adopted a unique towering wind rotor propulsion system called the Flettner drive developed and employed on a couple of vessels early in the 20th century. The result of their vision is the E-Ship 1 s pictured below. 4 towering rotor turbines help propel the ship (via the Magnus effect).  In addition, the cargo ship utilizes a waste heat recovery system that spins a steam turbine that contributes to the Flettner propulsion drive.  As a result, the ship consumes 30-40% less fuel than a comparable cargo ship.   A lot of innovative concepts are emerging. More will will be highlighted in an upcoming post.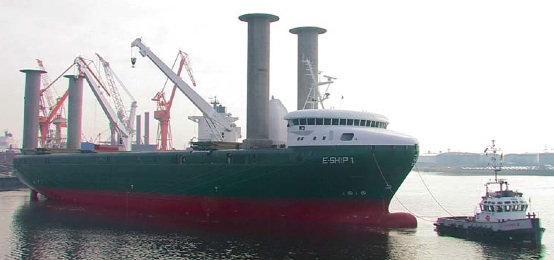 Surprisingly, demand for sustainable transportation has also given new life to vintage sailing vessels. Trans Oceanic Wind Transport is a sailing freight transport company that offers a shipping solution to global warming and the energy challenge.  The Fair Transport group consists of a fleet of 4 tall ships.  View the fleet here.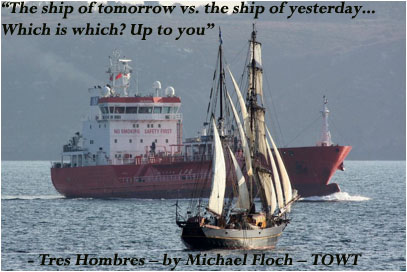 The New Dawn Traders' Ketch Irene and the Atlantis Merchant Sailing Company's Brigantine Tres Hombres travel routes between the UK, France, the Netherlands, the Canary Islands and Caribbean and South America. They move sustainable products like organic beer, olive oil, rum,  wine, coffee and cocoa.  As pictured, the Exeter Brewing Company's organic beer sports an "Ale Transported by Sail" label.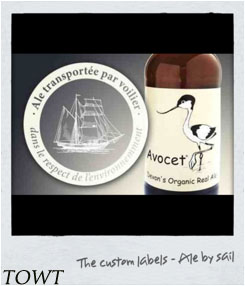 As of this writing, the Tres Hombres is back in Amsterdam after a recent Atlantic crossing that was delayed due to headwinds.  Arriving  late in Portsmouth, they discovered that the berth that would accommodate their vessel had ironically been given up to a gas guzzling super yacht.  The boat will depart again this month on another scheduled tour servicing ports in France, the UK and the Netherlands.  More info . Meanwhile, the Irene is now completing an Atlantic crossing.  Having left Bermuda on the 29th  of  May, it should  be arriving Bristol any day now. 
A Trans Oceanic Wind Transport label was recently created to promote all the products they ship and to provide tracking information to consumers of the product.  By inputting a code at the TOWT website, product info such as name of the ship, the route and miles traveled are available.   In addition to ferrying goods, they will take on passengers.  For more information on their routes, the ships, etc., visit the TOWT website.  You can also follow them on Facebook. A blog of the New Dawn Traders voyage can be viewed here.
---
Following the Sun – Solar Touring Continues this summer

Designed by an international team and built in Kiel, Germany, the largest 100% solar powered vessel, the Turanor Planet Solar just completed a circumnavigation of the globe last month.  The 585-day journey following a route around the equator marked a number of major milestones. Making numerous stops around the globe, the boat generated a great amount of attention and served to educate the world about the potential of solar energy and clean shipping.   Hosting 5,300 sq. ft. of Sunpower solar panels, it can operate 3 days without sun, but with a $24 million dollar price tag, it's not for your average sailor.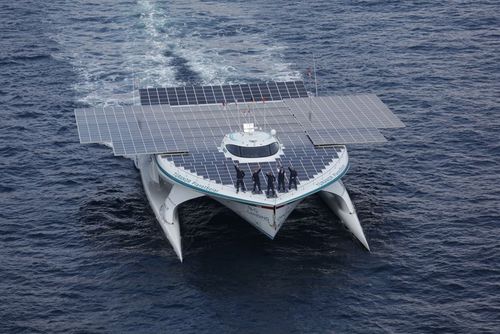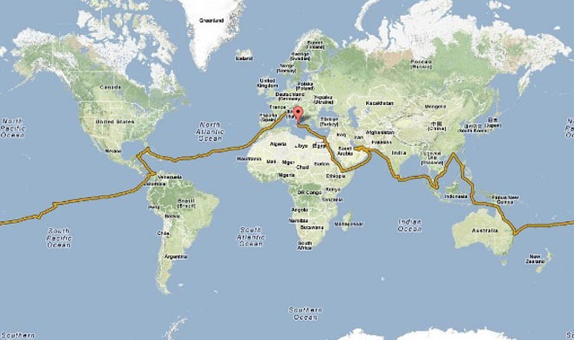 Remarkably there are some relatively unknown yet worthwhile endeavors demonstrating more economically realistic solar propulsion technologies.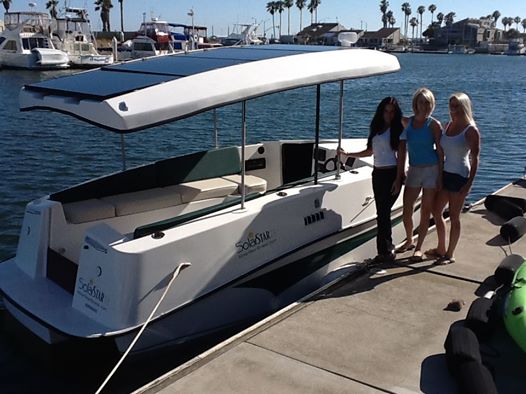 Just last month, the Solar Star, built in Arizona, also completed a solar voyage.  Granted, it was just a 10 day 363 day mile trip through NY along the Erie Canal, but it too was fully powered by the sun.  Like the PlanetSolar, the Solar Star sports a unique displacement Trimaran-shaped hull, also designed by a Kiwi, that readily moves through the water, offering little resistance.  With a virtually maintenance-free drive system and the electrically operated top that provides shelter for passengers and crew, the price of $45,000 certainly could be be considered affordable.
Another solar boat startup, Tamarack Electric Boat, based in Rome NY produces hybrid and fully solar pontoon vessels. (pictured below).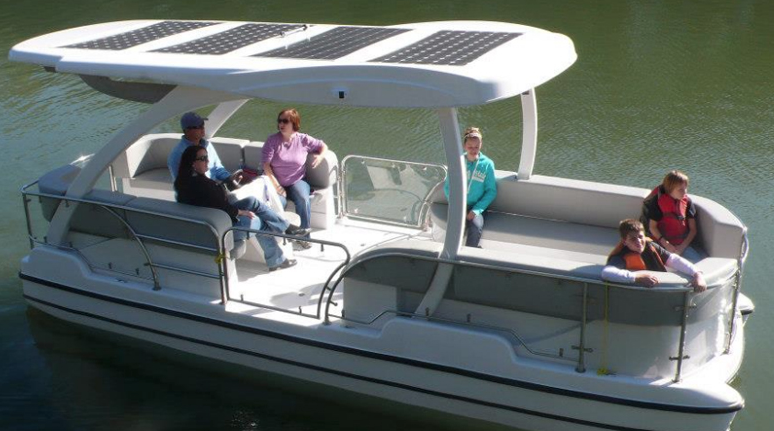 Great Loop Solar Odyssey
And in a matter of days, another adventurer, Jim Greer, plans to embark on his own solar odyssey:  A Tour of the Great American Loop under solar power.  Completion of the frequently navigated 5,000+ mile journey through the Eastern North American waterways, will represent the first traverse of the Great Loop on solar power. For more information regarding the circular route, check out this Great Loop website.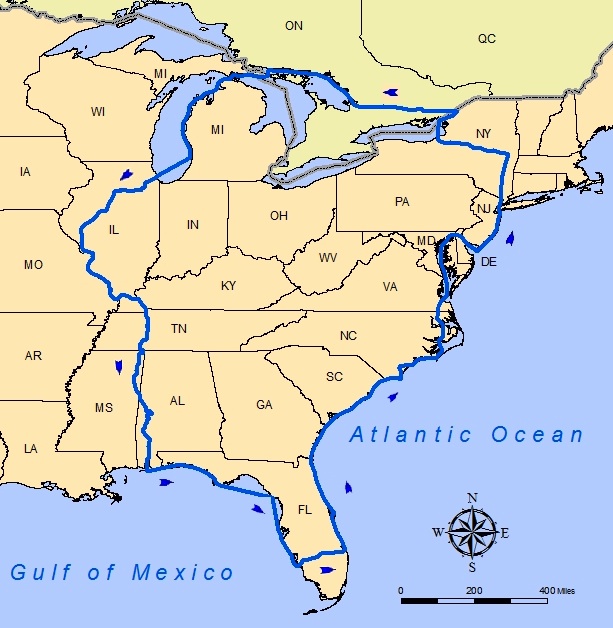 Jim and crew will depart from Clearwater Florida on a custom made solar powered boat rightly named Ra (pictured below). The journey will be documented as they travel south to Fort Meyers and through the Okeechobee waterway and then north along the Atlantic Intracoastal Waterway and continuing along the circular route highlighted. There are numerous stops planned along the way, 3 in the region include Edenton, Portsmouth and Reedville.  A complete list of  scheduled stops, including a map, can be viewed on the Solar Odyssey website.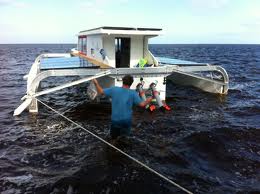 ---
Chesapeake Bay "smart buoys" give real-time wind and weather information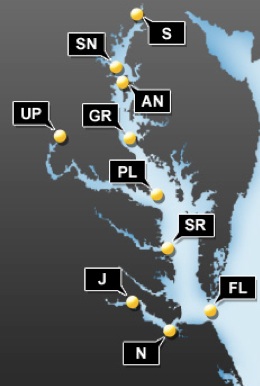 Bay boaters and beach goers have a new a tool available to determine local and up to date bay conditions:  A network of 10 interpretive buoys located throughout the Bav. Each of the 14 foot buoys in NOAA's  Chesapeake Bay Interpretive Buoy System (CBIBS), provides data on the following:

Meteorology (air and water temperature, wind direction, speed, and gust, barometric pressure, relative humidity); Currents (direction and velocity); Waves, (significant height and period, maximum height, mean wave direction, wave direction spread) and Water Quality (chlorophyll-a, dissolved oxygen, water conductivity, water salinity and turbidity).  Heat and jellyfish indexes were recently added  to the list of data parameters tracked. The Susquehanna buoy also had a nitrate sensor added and phosphate, water level, and acoustic fish tag tracking could be
potentially implemented in the future. 

In addition, the system provides voice narration for sites on the Captain John Smith Chesapeake National Historic Trail, the first water-based national trail in this country.  You can connect to the site toll free at 877-BUOY-BAY, visit the NOAA website, or download the smartphone app (iphone, Android)

---
Wind Helping to Power Beach Manufacturing Plant
Last September STIHL Incorporated installed two Honeywell wind turbines on the green living roof of the US (Virginia Beach) guide-bar plant to assess the potential for utilizing wind energy at the site.  According to a Virginian Pilot article, the company is planning to install 7 more turbines.  Already approved by City planners, they hope to obtain approval from City Council today.
Winning a "Best of What's New 2011" Popular Science Award, the Honeywell Windtronics turbines are considered the most efficient in their class. This was achieved thorough a major design innovation: Instead of spinning a generator at the blade hub, this gearless turbine uses magnetized turbine blades to create a current at the faster moving blade tips as they revolve through copper coils lining the inner rim of the outer frame. See the windtronics website for more info.
Pictured below are two rooftop Windronics energy conversion devices  amidst a PV installation atop the ClearSense Building in Downtown Durham, N.C. (which is on track for LEED platinum certification).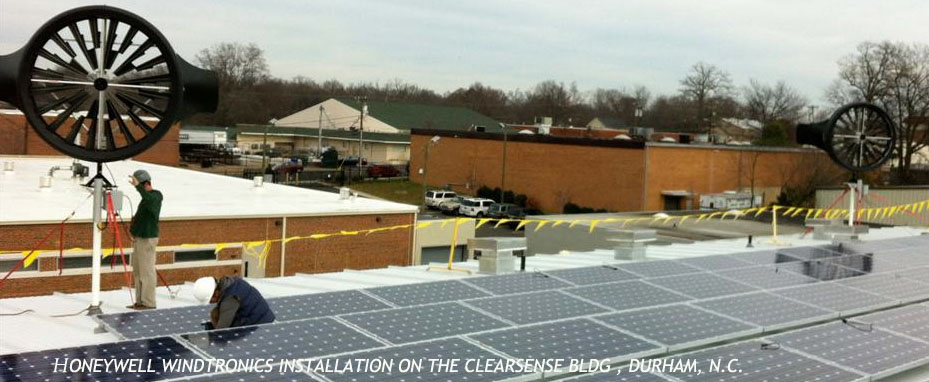 The quiet 6-foot diameter turbines spin at low wind speeds and are visible to wildlife.  The average installation cost of $9,500 is significantly reduced by federal tax incentives available until 2016. Each unit has the potential to produce 1500 kWh of energy per year or approximate 15% of home energy needs. - C. Brighton/6.26.12
---
Virginia's Solar Factory
At a Virginia Winery, the sun not only powers grape production in the vineyard, but also all the tasting room's electriccal needs.  30 miles North of Charlottesville along the Eastern Edge of the Shenandoah National Park, DuCard Winery boasts the distinction of being the first solar winery in the Commonwealth.  And with its eco-friendly ethos, it was selected as one of two Virginia Wineries awarded the State's Green Star Travel designation.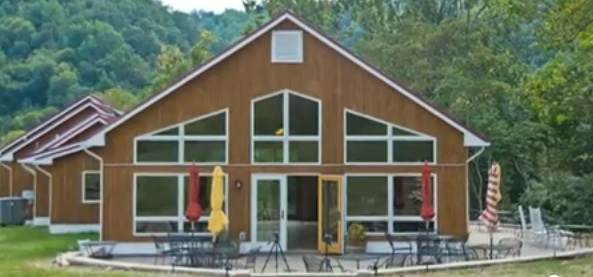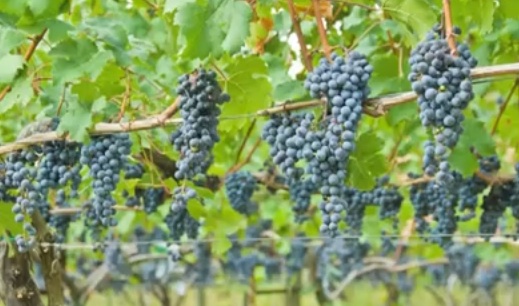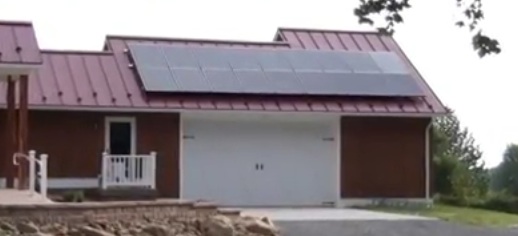 The net zero tasting room was constructed using locally sourced wood for framing and siding, while the wood floors were reclaimed from a barn on the site.  Local food is featured in the tasting room and their wines are bottled in glass that weighs one third less than conventional bottles, saving resources used for manufacturing and shipping.  They also participate in a cork recycling program offered through Re-Cork C'Ville.   For more information on DuCard and additional stewardship efforts, visit the DuCard website. Two episodes of "Meet the Farmer TV" can be viewed on YouTube. By C.Brighton- 7.8.12
---
University of Maryland purchases 16 foot underwater drone for coastal studies.
With an advanced navigation system, the Kongsberg-Hydroid Remus 600 system can be programmed to travel a specific route at designated speeds and changes can be made via satellite communication or relayed acousticly from a surface bouy. The device can collect data from all depths and be fitted with a variety of sensors. One already planned study is mapping hypoxia in the Chesapeake Bay. The system will be delivered in March 2013 and will be available for charter. More info. 7.20.12
---
Alternative Fueling Station Locator and 2012 Vehicle Buyer's Guide
There are 9,591 alternative fuel stations in the United States and several in Tidewater. Click either map below to link to an interactive map that provides data on fuel type and location. The DOE site also allows you to plan a route based on your fueling reequirements. To learn more about alternative vehicles, see the 2012 Clean Cities Vehicle Buyer's Guide. 7.15.12
Check the Archive for Previous Posts
All Rights Reserved. Disclaimer.