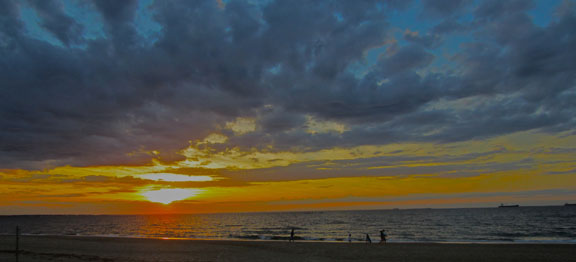 Tidewater Current | Fall 2012
Transmitting news and infomation about sustainable endeavors in Coastal Virginia and beyond. Updated Weekly.
Food Safety & Sustainable Production:
For more illustrated and current news visit the TidewaterCurrent Snip.it collection. Please check the Archive in the menu above for earler posts.
12.15.12 - Old Beach Farmers Market - 19th & Cypress at the Oceanfront- Info
Drink your way to a Cleaner Bay: Craft Brewers Contribute to Restoration Efforts - Tidewater Current | Fall 2012 - Striped Bass Pale Ale, Pearl Necklace and Rosie Parks Oyster Stout are all relatively new brews. And the proceeds from sales will be used for restoration efforts along the Chesapeake Bay.
12.6.12 - Boston, MA - Chef makes the most of trash fish - nrn.com. "By paying $2 or $3 per pound for so-called "trash fish" that otherwise might be regarded as worthless, Garcia and other chefs help fishermen earn a decent living. "At the same time, we're letting the cod and haddock stocks hopefully rebuild," he said."
12.6.12 - Should EnvironmentalistsJust Say No to Eating Meat? (Maybe not.)- e360.yale.edu. "WWF this year helped launch the Global Roundtable for Sustainable Beef, an association of businesses and environmental groups WWF is accepting financing from the National Cattlemen's Association and JBS, the world's largest beef producer. that has begun to "facilitate a global dialogue on beef production that is environmentally sound, socially responsible, and economically viable." The roundtable plans to identify the best practices for raising beef, and spread them widely using the leverage of retailers like Wal-Mart and brands like McDonald's to do so. Someday your burger may come with fries, a Coke, and a "green" seal of approval."
American Meat Screenings in Virginia - December - Several events scheduled around the state - none in Tidewater or Hampton Roads - "American Meat is kicking off a nationwide screening tour called the Young Farmer Screening Series. This tour will take place at universities, colleges, agricultural high-schools and FFA chapters aimed at stimulating dialogue about the meat industry, framing the conventional/organic debate from farmers' perspectives, and inspiring young people to pursue careers in agriculture and food. The 10 states on the tour include: Missouri, Washington, Virginia, California, Texas, Colorado, Minnesota, Ohio, New York and Pennsylvania."
12.6.12 - Hybrid Fruit: Mixing Plums, Apricots, and Their Names - nationalgeographic.org. Organically grown pluot - "What's a pluot, much of the country might ask? An innovative hybrid of a plum (60 percent) and apricot (40 percent). They started popping up in the 1980s, and then fruit breeding innovation really took off. Now we have apriums (the same hybrid, but dominant apricot), picatums (peach, apricot, plum), mango-peach hybrids, and nectaplums."
11.30.12 - Cornstalks Everywhere But Nothing Else, Not Even A Bee : NPR - Great article. Fascinating, but not surprising. For a new coffee table style photo publication entitled "One Cubic Foot, an NPR journalist set up cubes at various locations around the world that took images of all the critters that entered the cube. At most locations there were hundreds of critters, yet oddly in an Iowa corn field there were hardly any. "There's something strange about a farm that intentionally creates a biological desert to produce food for one species: us. It's efficient, yes. But it's so efficient that the ants are missing, the bees are missing, and even the birds stay away. Something's not right here. Our cornfields are too quiet."
11.30.12 - Baltimore urban farm crops up in Sandtown-Winchester neighborhood - baltimoresun.com. 3,300-square-foot organic urban farm being built in Baltimore is part of a City plan to improve access to healthy food and create jobs. It is one of several in the City, but will be the most intensive (as the others currently operating are more education based) and is expected to produce 150,000 pounds of produce/yr. The sustainability office of the City plans to develop 10 more sites.
11.29,12 - Tastier Winter Tomatoes, Thanks To A Boom In Greenhouse Growing : NPR - From Maine to West Virginia, greenhouse growers are are using less water and land to produce quality tomatoes all year long. "The advantage of the new greenhouse model is that the tomatoes are grown not far from the cities where they're sold and eaten. And it's the locavore ethos that's driving this trend"
11.27.12 - Leading Pediatrics Group Issues Warning and Recommendations on Pesticides - beyondpesticides.org. American Academy of Pediatricians' report cites the benefits of eating organic and notes that switching to an all organic diet had an "immediate and substantial decrease in the concentration of pesticides in their bodies." They recommend better labeling of pesticides and the development of a government program to minimize pesticide contact.
11.26.12 - Organic Dairy Farms Close To Milking a Big Business Opportunities - triplepundit.com. "The Union of Concerned Scientists (UCS) recently issued a report that touts the economic benefits of organic dairy farms." Consumers already seem to feel that it is healthier as demand has grown 50% in the last few years. So now its time for politicians to do their part and initiate policies that will help small local dairy farmers."
11.26.12 - Fish feed for sustainable aquaculture - phys.org. Harvesting forage fish for aquaculture is not sustainable. "Norwegian researchers have been leading an international effort to make aquaculture more sustainable. In 10 years they have revolutionised fish feed....the proportion of fish-based ingredients has been reduced to roughly ten per cent, while fish farmers have doubled their production."
11.24.12 - Growing food in the desert: is this the solution to the world's food crisis? guardian.co.uk. - Using the sun's energy to heat sea water and create steam, the greenhouse climate is regulated and fresh water provided at Sundrop Farms in South Australia. The same technology will be employed in Qatar. The company is growing cheap high-quality, pesticide-free vegetables.
11.23.12 - Could Seaweed Help Turn Cape Cod's Nitrogen Problem From Lemons Into Lemonade? - capenewsnet. Wood Hole scientists have been conducing experiments this summer harvesting strings of edible seaweed that gobble up nitrogen.
11.22.12 - City of Vancouver set to launch long-term food strategy - straight.com. City is developing local food access strategy to be released next year that will include community/rooftop gardens as well as local farmers markets in low income areas.
11.21.12 - Excellent Idea of the Day: Earthy Turkey Farmers : Discovery News - University of Missouri engineers develop geothermal system that will bring down the cost of raising turkeys. "This is the first application of geothermal energy in a commercial livestock operation," Xu was quoted as saying in a press release. "Our first set of performance data suggests that farmers could halve their heating and cooling costs."
11.21.12 - Virginia Wine: Jefferson's dream fulfilled, part 2 - RVANews - Virginia's Blenheim Winery touted to have a small carbon footprint "thanks to the sustainable practices set out by owner Dave Matthews."
11.20.12 - Organic farmers condemn U.S. report, claim it favors GMO - news.yahoo.com. This is WRONG - USDA had an advisory committee analyze compensation to address economic losses to farmers as as result of GE contamination from a neighbor. One suggestion in the report was that non GMO farmers should pay into an insurance fund (to compensate for contamination losses). According to the National Organic Coalition: "This proposal allows USDA and the agricultural biotechnology industry to abdicate responsibility for preventing GE contamination while making the victims of GE pollution pay for damages resulting from transgenic contamination,"
11.20.12 - Why seaweed is the natural choice - guardian.co.uk. "Seaweed, in fact, is one of the most useful natural substances on the planet. It's existed for over one billion years, and all land plants evolved from it. At least 145 of its roughly 10,000 different species are eaten around the world. It's full of carbohydrates, proteins, minerals and vitamins, and it's often rich in iodine. "
11.20.12 - An Exploding Van Leads To A Nutritious Way To Fight Hunger - fastcoexist.com. "Good Spread. Produced in Georgia, the all-natural peanut butter comes in packets and uses a buy-one-give-one model to donate one package of therapeutic food for every sale generated by the peanut butter."
11.19.12 - Corporate Giant Comes Out Against GMOs - williamettelive.com. Kaiser, the nation's largest managed health organization recommends limiting exposure to GMOs.
11.18.12 - Aquaponics Garden: Fish Poop in a Closed Loop - hyphenmagazine.com. More of an educational tool but mimicking what could be done on a larger scale, this aquaponic kit, in the process of being kickstarter funded, grows fish and plants in a symbiotic environment.
11.17.12 - Environmental pressure creates demand for sustainable fish - vancouversun.com. "Vancouver-based Albion Fisheries is developing a local market for closed containment Atlantic salmon, putting samples grown in research facilities in West Virginia into the hands of chefs." Farming in sustainable land based closed systems controls waste, reduces disease and escapes.
11.14.12 - Seaweed is commercially harvested in England for the first time as demand soars for 'green gold' from top restaurants - dailymail.co.uk. Cornwall - "It has been a staple of the Japanese diet for centuries but now seaweed could be making a more pronounced appearance on UK menus"
11.14.12 - What's in the food your family eats? New state initiative to force GMO labeling - mynorthwest.com. Washington State - Initiative 522 - GMO labeling. - "In your supermarket, most of the produce is free from GMOs except for sweet corn and papaya. Foods in the center of the store - packaged, processed and frozen - are more likely linked to a GMO. Which foods? It's hard to know for sure. The FDA doesn't have a labeling requirement for genetically modified products." Washington state will contemplate labeling in Initiative 522. Supporters are pushing the initiative on its economic merit. They are concerned that with labeling requirements in 60 other countries may have an impact on wheat sales (which brings in more money to the state than Microsoft). One county has already made a stand on GMOs and banned their production. So maybe this initiative will pass.
11.12.12 - These guys want to provide the nation's capital with a steady source of local food - grist.org. The newly established Blue Ridge Produce, west of Fredericksburg, is a food hub for the Washington metro area and Charlottesville, with on-site indoor farming opportunities as well as a very large distribution center. Their products will all be locally grown and the company is encouraging farmers to go organic.
11.9.12 - Washington County Bans GMO Cultivation - treehugger.com. "One very interesting ballot initiative we missed: Examiner reports San Juan County, Washington passed Initiative Measure No. 2012-4, making it illegal to "propagate, cultivate, raise or grow plants, animals and other organisms which have been genetically modified.""
11.8.12 -20 Seasonal Craft Beers From Local, Green Breweries - treehugger.com. Great list of sustainable brews - organic and/or produced at facilities that incorporate sustainable production technology.
11.8.12 - 'Humane' fishing net wins Dyson award - guardian.co.uk. "A young British designer has won a prestigious international award for creating a "humane" net to make fishing more sustainable by preventing small fish from being trapped."
11.8.12 - Know Any Good Food Heroes? Nominate Them for the Growing Green Awards - switchboard.nrdc.org. "For the fifth year in a row, the Natural Resources Defense Council is searching nationwide for exciting leaders who are making our food system healthier for us, more sustainable for the planet, and more equitable for food workers. It's time to apply for the Growing Green Awards.Foodies, farmers, and everyone in between, we need YOU to help us find the food leaders who make you most excited to sit down at the dinner table. Click here to nominate your favorite farmer or food leader before December 7! "
11.6.12 - Measure to label foods defeated - The Sacramento Bee - "With 92 percent of the vote counted, Proposition 37 was losing 53.1 percent to 46.9 percent."
11.5.12 - Sales of Non-GMO Products Soar | WholeFoods Magazine - 66% increase of non GMO food sales over last year. 6,000 products now carry non GMO verification.
11.2.12 - From sea to dinner table - montrealgazette.com. Fantastic program for Consumer Empowerment via EcoTrust Canada's ThisFish traceability program: "Scan a code on a fish product with your smartphone camera or computer, and you're whisked to a site where you learn a bit about the person who reeled in your dinner. There are photos and a video of the boat and crew in action, a map showing where the fish was caught, even links so you can send an email to the fisherman or share the information via Facebook or Twitter."
11.1.12 - Vote for Food - Forbes - Food Policy Score Card available through Food Policy Action. Link to the site and type in your zip code to learn how your representatives voted on key legislation.
11.1.12 - A Toast-Worthy Community Vineyard Grows in Cleveland - sustainablog.org. Neat Idea - Vineyard on abandoned city lots.
11.1.12 - Yard times: Denver's super-local veggie box - grist.org. Denver's Farm Yard CSA produce grows in front and backyards within a five-mile radius. Picking fruit that would go unused and growing produce in unused urban lots is a growing trend.
10.31.12 - Stonyfield, New Leaf, Many Co-ops Join Ranks of Organic Heroes in the California GMO Fight - foodconsumer.org - Cornucopia Institute Info graphic showing support for and against Prop 37 - "Since Californians spend 10% of all US food dollars, Prop. 37 could easily result in companies labeling GMOs nationwide. "It is no surprise that the biotechnology industry and food manufacturers currently using GMOs have spent more than $40 million to defeat the initiative and keep consumers in the dark."
10.29.12 - Interview with Virginia author of "Eating Aliens" - grist.org. "The beautiful thing about hunting, especially invasive species, is it's a way of dropping out of the mainstream meat paradigm, where so many of the ethical and health problems associated with eating meat arise."
10.28.12 - Farming goes vertical at Green Sky Farm - azdailysun.com. "Green Sky Farm has the potential to turn empty warehouses and strip malls into neighborhood gardens...Long-term plans call for the use of solar panels, wind turbines or biodiesel generators in some remote location to further reduce their energy costs."
10.24.12 - Bay Daily: Farms Can Profit While Reducing Use of Chemicals by 80 Percent - cbf.typepad.com. Iowa State researchers find that returning to crop rotation strategies and grazing cattle leads to less pollution while fertilizer and pesticide inputs are dramatically reduced plus there's an added benefit of slightly higher crop yields.
10.24.12 - Seafood Surprise: Wait ... What Am I Eating? | OnEarth Magazine - Farmed seafood from overseas sold in the US often contains dangerous antibiotics and other pathogens resulting from unsanitary and dangerous farming techniques (like feeding Tilapia pig manure). One consequence of consuming food produced in such questionable circumstances is illness. Yet little is being done to make sure food is safe.
10.24.12 - Demand for VitaminSea products grows like a weed | The Portland Press Herald / Maine Sunday Telegram - Great success story - Small Maine company is harvesting sustainably produced seaweed for food bars, animal feed and fertilizer. The bars are so popular, they can't keep up with demand and they are looking for partners.
10.22.12 - Harvesting The Urban Fruit Forest · Oregon Public Broadcasting · EarthFix - "City Fruit is a Seattle-based nonprofit with a tiny operating budget ($40,000/year) and a lot of work on their hands. The organization brings together volunteers to harvest trees on privately-owned land (with the owner's permission) at 250 sites around the city. Then the fruit — from apple, pear and fig trees mainly — is distributed to 38 donation sites including homeless shelters, food banks and after school youth programs."
10.22.12 - An App To Tell You If There Are Genetically Modified Ingredients In Your Food - fastcoexist.com. "If a product has a GMO-free label, that product appears on Fooducate as a GMO-free food. But if a food contains ingredients that are likely to include GMOs--like soy and corn--they will get the label "GMO--High Probability." Foods that have ingredients with a moderate possibility of being GMO receive the "GMO--Medium Probability" label."
10.19.12 - Three reasons to have a cow over antibiotics in your meat - grist.org. Good story about antibiotics in the food chain, which unfortunately goes beyond the farm. "The effect from all these antibiotics is truly global. Researchers in Sweden are just now digging into the effect of sending them into the environment by looking at where they end up — in the ocean. It turns out that many of the antibiotics consumed by animals (and humans) pass through our and their systems undigested — and are ultimately deposited in the sea....So for those of you eating wild-caught fish and feeling smug about avoiding antibiotics in the food system — well, nice try."
10.18.12 - How to Label Genetically Modified Food - USNews.com. Very well put and thorough explanation of the GMO dilemma: "Even IF GMOs are proven to be completely safe to eat, there remain important economic risks. First, the companies that develop GMO strains of common crops are being very aggressive in protecting their intellectual property. Their crops are literally spread by the wind, and farmers who plant their fields with non-GMO crops can find their crops inadvertently cross-pollinated by genetically modified crops next door. When cross-pollination occurs, farmers have been sued by deep-pocketed chemical companies. These lawsuits force farmers to adopt GMO-based farming, whether they want to or not."
10.16.12 - Miracle fish: Is the search for the perfect farmed seafood really over? - grist.org. "Australis' flagship facility in Massachusetts, with its green Seafood Watch rating, is considered a model for dealing with the risks of aquaculture. The barramundi are raised in an entirely closed system, so there's no chance of them escaping. The fish move through five stages as they grow, each with a filtration system to remove fecal matter. The water is recycled and manure is stored in a tank, then given away twice a year to local farmers who use it as fertilizer. "When you do the math, what leaves the farm ends up being equivalent to just about three to four households of waste for quite a large farm," says Goldman." READ MORE about recirculating aquaculture here: http://tidewatercurrent.com/spring2012/features.html
10.14.12 - Bass, veggies developing in sustainable food aquaponics setup at Tates Creek High School - kyforward.com. Kentucky High School students are leanring about sustainable food production. They are raising largemouth bass and growing vegetables in an aquaponic system. "The great thing is the fish and the plants have a symbiotic relationship. The fish waste is used by the plants as food, and they filter the water so it's clean to go back to the fish, ...It uses less than 10 percent of the water that conventional agriculture uses, so it's a really environmentally friendly way of producing food." "
10.10.12 - Grow Dat Youth Farm 2A+A- ecowatch.org. NOLA's "Grow Dat Youth Farm" program teaches kids about organic farming in a 19 week program. The students grow, market and sell the food they produce and give about a third away to needy families. Great video included. We need more of these programs!
10.9.12 - Restoring the Urban Sea by Farming It - nationalgeographic.com. Seaweed and shellfish being farmed vertically off of Long Island provide food, fuel and remove nutrients.
10.8.12 - Lobsterman turns to solar energy to cut costs - necn.com. First solar powered wharf in Maine is located in Harpswell. Great video.
10.7.12 - Is Fish Poop The Key to Global Food Security? - care2.com. "The Rotary Club of Patan, Nepal, and the Rotary Club of Brussels with funding from Rotary International and technical support from the social enterprise, Aquaponics UK already run an aquaponics unit that supports a rehabilitation home for 20 children and mothers affected by HIV/AIDS.The system, operating since August, cost $10,000 with annual production estimated to be worth $8,000."
10.5.12 - Celebrate Watermen during National Seafood Month - nationalgeographic.com. October is National Seafood Month! Over 90% of seafood purchased in the US is produced elsewhere. "Buy seafood that is produced in the United States. The U.S. has the best managed and most highly regulated fisheries and aquaculture in the world. While not all of our practices and products are perfect, each and all are under a management plan that will ensure the continued bounty of our seas. And each purchase of domestically produced seafood is an investment towards the restored prosperity of American watermen's jobs, and a renewal of the health of our seas." Links included to the NatGeo Seafood Decision Guide, the Monterey Bay Aquarium Seafood Watch, and Marine Stewardship Council certified fishery.
10.4.12 - Governor Cuomo Signs Legislation Allowing NY Micro-distillers to Sell Local Booze at Farmers Markets - inhabitat.com. "One small company to benefit from the new legislation, Kings County Distillery, operates out of the Brooklyn Navy Yard and produces moonshine and bourbon from the corn they grow on the lot next door!"
10.3.12 - The Water-Food-Energy Nexus: Algae Biomass Production Moves toward Commercial Scale in Western Australia - cleantechnica.com. "Aurora's pilot algae biomass production system yields 38 times as much usable protein and 10 times as much oil while using less than 1% of the freshwater required per unit land area to produce the equivalent amount of soybeans" The company is moving forward with a commercial plant to produce food, fuel, fertilizer and bio-phamaceuticals. For more info on algae fuel, visit the Clean - Eco Transport collection.
10.1.12 - FIS - Companies & Products - A New Source of Sustainable Salmon - Farmed on land in closed recirculating tanks, the SweetSpring Salmon from Washington State are the only salmon receiving a Super-Green rating from Seafood Watch.
9.27.12 - Poll Finds Prop. 37 is Likely to Pass - cornucopia.org. New USC Dornsife/Los Angeles Times poll reveals that 61% of registered voters support GMO labeling.
9.26.12 - Aquaculture System Promises Eco-friendly Fish Farming Future - fis.com. Fresh and saltwater fish can be grown in tanks anywhere without chemicals or antibiotics,. The water is kept clean using a unique process of water treatment based on biological filtration.
9.21.12 - Fancy being an ant eater? Insects are the latest addition to fine dining recipes - dailymail.co.uk. Some 1000 species of insects are dined upon globally. And recently the benefits of including them in our diets have been touted by nutritionists, chefs and environmentalists. So it's no surprise the UN and EU support the development of this food source. One US company is selling a cricket energy bar - http://snip.it/snips/208494
9.20.12 - The Waldorf Astoria Hotel in New York City is Home to 360.000 Bees That Produce Honey for Their Guests (Photos) - treehugger.com. Six hives on the rooftop have produced 125 pounds of honey since April.
9.19.12 - New aquaponics farming system helps cities and drought-stricken regions - denverpost.com. Colorado - "GrowHaus is using the method — which uses an estimated 10 percent of the water used by traditional agriculture — to produce chard, kale, mustard greens and basil, which are distributed within the Elyria-Swansea neighborhood where it is located." Fish are also farmed at the site. The plants and fish have symbiotic relationship. The fish provide fertilizer for the plants and the plants remove the nutrients and clean the water. Denver is considering a system at the county jail.
Sunday, September 16th, 1-4pm VT AREC Station 1444 Diamond Springs RoadVirginia Beach, VA 23455
9.15.12 - G.M.O.'s: Let's Label 'Em - nytimes.com. California set to vote on GMO labeling on Nov. 7. If the referendum passes, the author and NY Times columnist anticipates that food manufacturers will reformulate their products.
9.13.12 - Lufa Farms Brings Large-Scale Rooftop Farming To Montreal - inhabitat.com. This 31,000 sq, ft, rooftop farm produces 25 varieties of fresh produce that grow in a nutrient rich coconut husk substrate. Rain water is collected to reduce demand from the public utility and biological over chemical pesticides are preferred for pest management.
9.12.12 - Sustainable fishing in light of Omega-3 demand - phys.org. Highlights research into plant based diets that produce high Omega 3 oil content in farmed fish to relieve the pressure on forage fish.
9.12.12 - 2012 Striped Bass Pale Ale Release - timesdispatch.com. With funds from the purchase of this crisp American Pale Ale, Devils Backbone Brewing Company will help support conservation programs of the Chesapeake Bay Foundation and the need for clean water. This beer will be released after Labor Day to retailers. There is a QR code on the back of the bottle that leads the consumer to an informative page for the Chesapeake Bay Foundation." Unfortunately, the beer is not distributed in Tidewater. A number of retailer in Richmond carry the product or you can go directly to the brewery.
9.8.12 - Where Cows Are Happy and Food Is Healthy - nytimes.com. Oregon dairy farmer went organic, stopped regular use of antibiotics that pharmaceutical reps claimed were essential for cow health, and found that his cows, which have access to adequate pasture fared better. Now a new trend is emerging among dairy farmer to provide more and better access to pasture. Reducing antibiotic use on the farm will likely stem the tide of antibiotic resistant microbes which are responsible for 100,000 deaths every year in America.
9.7.12 - Oyster stout is a pearl of an idea - sfgate.com. The author focuses on a west coast oyster used in a west coast brew but also provides info on an East Coast oyster stout made from Virginia Rappahannock River oysters at Maryland's Flying Dog Brewery. Part of the proceeds from Flying Dog's Brew goes to oyster restoration projects in the Chesapeake Bay.
9.6.12 - Marine Stewardship Council launches film to promote 'Sustainable Seas'. - MSC.org. MSC Certification process explained in video (link included)
9.5.12 - Study Shows: Eating Organic Produce Decreases Pesticide Content In Body - greenerideal.com. While organic food may or may not be more nutritious than conventionally produced food, according to a Stanford study, consuming it does reduce exposure harmful to chemicals.
9.4.12 - Fruits of old: Chicago gears up for an urban heirloom fruit orchard - grist.org. Urban farmer works with city to create NeighborSpace a nonprofit land trust, where members of the Chicago Rarities Orchard Project (CROP) will site an orchard on derelict land.
9.5.12 - Seaweed, the Superfood of the Future - fis.com. Danish company has developed a line of products made from seaweed that include breads, pasta and oils.
9.1.12 - Eco-friendly Farming: Sowing the Seeds of Renewable Energy - renewableenergyworld.com. Income from farm sited renewable energy production has helped some farmers during this summer's drought and will likely change the future of agriculture (which is responsible for significant greenhouse gas emissions). Author looks at solar, wind and biogas energy produced at farms.
9.1.12- Vancouver company installing vertical garden in parking garage - thestar.com. The parking garage siting appealed to the company owner, Chritopher Ng CEO of Alterrus Systems, because so many are partially empty as more people chose to use public transit or bike to work
Check the Archive for Previous Posts
All Rights Reserved. Disclaimer.