Tidewater Current | Spring 2012
Transmitting news and infomation about sustainable endeavors in Coastal Virginia and beyond. Updated Weekly.
Fishing for Sustainable Seafood  
Successful Solutions to Feed the Future
By Carol Brighton – Posted March  23, 2012
Given our proximity to the Bay, the Ocean and numerous tidal tributaries, the seafood industry has long played in important role in Virginia's economy. Despite overfishing and depletion of various species, through management, key products, like scallops, clams, crabs and oysters are making a comeback.  Yet, visit any local supermarket seafood section and you'll find product from China, Thailand, Ecuador and more.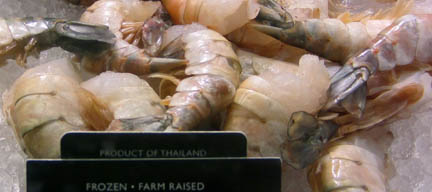 NOAA estimates that 84% of the seafood consumed in the United States comes from abroad representing over $10 billion dollars a year in foreign trade deficit.  Outlined below are strategies and practices for increased domestic seafood production that are sustainable, both economically and environmentally.  They include fishery management, aquaculture in closed recirculating systems (including highlights of a few operations), and consumer programs and resources.
Fishery Management - Success in the Oyster Industry
Through seasonal and/or geographical harvest moratoriums as well as size and number limits, regulators have kept a number of species commercially viable.  The resurgence of the oyster industry in recent years is, at least in part, a result of good management.  
Oysters are unique as they can be farmed in open waters without inputs like feed and they cleanse the water by filtering nutrients.  Because of the important role they play in the health of the Bay, numerous federal, state, local and non-profit agencies have participated in programs to rebuild natural stocks in conservation and public reefs.  With public reefs on rotational harvest schedules, harvests are staggered and stocks can regenerate and grow to market size.  At the same time, bottom leases to oystermen are steadily rising for aquaculture. As a result, oyster production has sky-rocketed over the past decade. Governor McDonnell noted in comments made last month that "the industry has grown from 23,000 bushels produced in 2001 at a value of  $575,000 to 236,000 bushels in 2011 with a value of $8.26 million. "
Some of the jump in production can also be attributed to research conducted at the Virginia Institute of Marine Sciences in the development of a sterile native oyster.  Without wasting energy on reproduction, the oysters reach maturity in as little as a year's time. According to Jackie Shannon of the Chesapeake Bay Foundation, a leader in oyster restoration efforts in the Bay, the majority of farmers are now growing sterile oysters.  Not only is the risk of disease reduced, with quicker maturity rates, annual yields and income increase.  View Virginia Seafood's Guide to Aquaculture Oyster Growers
Closed Recirculating Marine Aquaculture Systems
Open water aquaculture is the source of some 50% of the worlds' seafood and while oysters are filter feeders, other species must be fed. With diets that include antibiotics to fight disease and hormones to speed growth, remnant and the resulting waste are released to the surrounding natural ecosystem. Closed recirculation systems are now being used to supply local markets with chemical free product.  Exposure to environmental pollutants (like mercury and PCBs) is also be limited.  And, surprising as it may sound, facilities far from the coast are producing marine products.
Mid-Atlantic Aquatic Technology
On the Eastern Shore in Quinby, Virginia, Dr. Clarke Morton an emergency doctor in Newport News started MAAT to produce marine bait fish and reduce pressure on the natural environment.  According to Chris Bentley, the Farm Manager, the company is now experimenting with Black Sea Bass Production.   Black Sea Bass is a highly valued fish and demand is outgrowing the supply from wild fisheries.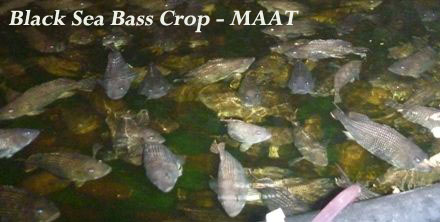 As Dr. Morton planned this venture, he focused on efficient and sustainable use of resources.  For assistance in carrying out his vision, he turned to researchers at the Virginia Institute of Marine Sciences and the University of North Carolina at Wilmington.
Located near Bradford Bay, seawater is pumped into the facility.  With the recirculating system, water is filtered and sterilized for reuse limiting intake and the associated environmental impact. To reduce their carbon footprint, a 67 kW solar thermal system was installed for supplemental winter heating and a geothermal system is now employed for summer cooling.  In addition, photovoltaic panels or a wind turbine may be added to boost electrical supply.
Bentley is enthusiastic about the 600 pound test crop of Black Sea Bass which they have been selling to northern markets and is planning for expansion.  According to Bentley, it takes about 15 months to reach market size depending on consumer preference, which they are in the process of determining with this first crop.  They can produce fish far more efficiently than other meat.  The ratio of conversion of feed to fish is about 1.3.  That is for each 1.3 pounds of feed distributed, they produce 1 pound of fish.   The ratio for poultry is 2 to 1 and is much higher for beef.   The fish are fed a diet specifically developed for Black Sea Bass by University of North Carolina Wilmington researchers. Supplemented with soy, the feed contains less fish meal than the industry standard minimizing the risk of PCB or mercury contamination. In addition, it is rich in omega 3 fatty acids creating a fish with enhanced nutritional benefits. With the recirculating systems, MAAT can maintain a consistent supply of high quality Black Sea Bass, something that cannot be guaranteed through wild harvests. View the Mid-Atlantic Aquatic Technology Website.
Virginia Cobia Farms
Some 300 miles inland, Virginia Cobia Farms is producing Cobia and Pompano, which are both highly sought after recreational marine species.  Tracy Mitchell, Business Development Director at VCF notes that their facility is currently still a small scale experimental endeavor but they are ramping up to expand.  They are partners with Blue Ridge Aquaculture in Martinsville which is the world's largest indoor fishery, producing 4.5 million pounds of Tilapia per year in recirculating tanks.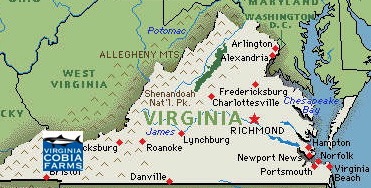 Located in Saltville, Virginia, near Interstate 81 and a few hours by road from many markets, minerals needed to create the low saline environment are readily available.   And by employing calcium sensing receptor technology (CaSR), developed by second partner Mari-Cal of Portland, Maine, the fish are fooled into believing they are in full strength seawater.  The recirculating water treatment system uses biological filtration and ultraviolet light to sterilize the water.  From the effluent, biogas is produced to provide power to the facility.
The fish maturing in less than a year are fed a proprietary algal-based diet with approximately 10% fish oil which they are working to phase out entirely.  And without the need to add any harmful chemicals, hormones or antibiotics in to their diet, they are a healthy alternative to wild or open water farmed fish.  The Virginia Cobia, low in fat and high in omega 3 fatty acids are included in the Monterey Bay Aquarium's list of Best Choice seafood (more info about seafood certification is highlighted in a post below). 
Phil and Deidre Armstrong, Shenandoah Valley Farmers and bloggers, enjoyed the fish at Zynodoa an upscale restaurant in Staunton.  Served whole, they especially loved the silky white fish.  Read their review. View the Virginia Cobia Farm Website.
Marvesta Shrimp Farm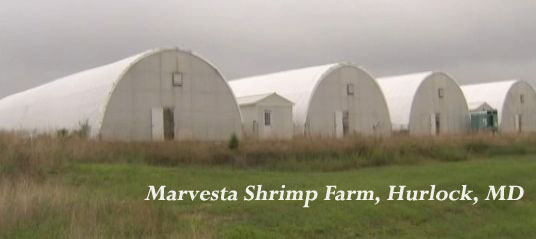 Shrimp is by far the most popular seafood in the United States, with average annual per capita consumption at 4 pounds.   The vast majority is imported from Asia where farmers cover thousands of acres with ponds, disrupting natural ecosystems in the process.  On the Eastern Shore of Maryland, Marvesta is operating an inland indoor saltwater shrimp farm. The intensive operation covering a comparatively small geographic footprint has the capacity to produce over 100,000 pounds of shrimp per year.   They are fed a high protein soy based diet and grow for approximately 4-5 months in seawater tanked in from the coast.  A closed recirculating system is also utilized at the facility and natural bacteria and algae filter the waste.  In the controlled pollutant free environment, the whiteleg shrimp are raised without antibiotics or hormones.  They are harvested throughout the year and shipped via UPS to online purchasers.  Unlike most shrimp in the marketplace, their product arrives fresh, never frozen.  They are also free of any additives and preservatives.   
Company Vice President, Brian Mitchell, says they have been inundated with inquiries since articles about their shrimp appeared in the Philadelphia Inquirer and Wine Spectator earlier this month.  They are currently sold out until April.  He notes that "We are currently growing our shrimp to the 16-18 ct. per pound size and they are sold with the head on. " To take advantage of the full flavor the shrimp have to offer, they strongly encourage cooking them with the heads on.  They are $12.50/pound plus the cost of shipping and there is a 3Pound minimum order.  They ship on Monday and Wednesdays.  For more information visit the Marvesta website.

More Sustainable Producers
The companies highlighted above are pioneers in the Aquaculture industry, but they are not alone. Hamachi (Yellow Tail), Barramundi, Coho Salmon, Hybrid Striped Bass are all being farmed in crecirculating systems around the country. See the short list the bottom of this post for more info.
Consumer Programs & Resources
The consumer plays a very important role in creating a vibrant and healthy seafood economy.  Information is provided below about local sourcing through community supported fisheries as well as certification programs for sustainably produced seafood.
Local Catch and Community Supported Fisheries:  Like community-supported agriculture, CSFs support the local economy, just instead of farmers, fishermen.   They tend to work the same as a CSA.  You buy a share and receive product weekly over a specified time frame.  LocalCatch.org includes an online network available to link consumers to local community supported fisheries.   There are several on the East Coast and two in Virginia: 
1 – The Virginia Natural Fish Company – Williamsburg - The Virginia Aqua-Farmers Network, a cooperative of fresh water aquaculture farmers supplies the Virginia Natural Fish Company with catfish, rainbow trout and prawns. Shares were available last summer and distributed at the Williamsburg Farmers Market. Check their website about plans for this year.
2 –Cville Community Supported Fishery – Charlottesville.

CSF Research at William and Mary
Researchers are currently exploring the viability of a Marine based CSF.   Click to participate in the Survey.

Seafood Certification:  With 85% of world fisheries fished to capacity or overfished, the Monterey Bay Aquarium in California established a rating program regarding the sustainability of fished species.  Seafood Watch is perhaps the most widely referenced source of seafood ratings.  They produce a handy pocket guide and app that you download to your smart phone.   FishChoice.com is an online seafood-sourcing tool that includes ratings provided by a number of watchdogs, including Seafood Watch, as well as information on the product and suppliers.  So for example, if you want to find out where to purchase hybrid striped bass, or for that matter what it is, or how it scores, FishChoice.com is very informative and helpful site (although you will need to register to get particular supplier information).
Learn more about regionally-sourced sustainable fare  at the Sensible Seafood Fest - 6-9 pm - Thursday, May 24 at The Virginia Aquarium. Enjoy tastes from more than 15 Sensible Seafood Partners. Tickets (Adults Only) are $40 per person ($35 for Aquarium members). This includes all food plus three beverage tickets. Information.
Short list of aquacultured products:
Barramundi  - Australis – Turner Falls, MA
Hamachi or Yellowtail – Local Ocean, Hudson, NY
Yellow Perch- Bell Aquaculture – Indiana
Coho Salmon – Sweet Spring, Seattle, WA
Atlantic Salmon – The Conservation Fund's Freshwater Institute  - Shepardstown, West Virginia
Hybrid Striped Bass – Colorado, North Carolina and more. Expected at the Virginia Natural Fish CompanyCSF in 2013.
Arctic Char – Washington State
Siberian Sturgeon – Mote Marine Laboratories, Sarasota, FL
Spade Fish - Virginia Institute of Marine Sciences (investigative), Gloucester Point, Virginia
Visit the Archive to read more Features and the Food and Conservation pages for news about seafood.
All Rights Reserved. Disclaimer.