Features:
Green Building | Poquoson Community Focuses on Sustainability | Viability of Eco-Village Explored at W&M | Winning Wetland Protection | Catch of the Day: Wind?
Green Building: A Global Phenomena

Like a rising tide, the momentum towards a more sustainable built environment continues to swell.  Green buildings are literally blossoming in all corners of the globe. From Zimbabwe to Milan to Portland and beyond, the trending current towards sustainable design has reached every shore.  Buzz words like "net zero", "passivhaus", "living", "energy positive", "biomimicry" and "regenerative" referencing design concepts are crashing into the lexicon of architects, planners and builders. 

Sustainable design which often incorporates green "living" components  as well as theoretically green features into structures is no new concept.  However, with the marriage of new materials and technologies to tried and true traditional design systems like passive solar, the reality of super energy efficient and self sustaining buildings has arrived. In some cases, projects located in environmentally degraded areas go beyond sustainable to restorative.
Read the following articles for more information on local projects and policy. To view noteworthy international projects, Take a Global Photo Tour. If you'd like to see an image included on the tour, send it on for consideration. Posted 12/10/11 by Carol Brighton.
---
The Better Building Initiative and Pro Green Policy

Renaissance Academy-Virginia Beach Public Schools-LEED Gold Certified-3.2 KW PV Array
A groundswell of support for sustainable design is rippling through all segments of government, business and residential realms as various mandates and programs promote a more efficient built environment.  Just last week, on Friday December 2nd, President Obama  announced a $4 billion dollar public/private initiative to promote green building.   The Better Buildings Initiative calls for $ 2 billion to be spent by federal agencies that will be financed and paid for with future energy savings provided by the projects.  Additionally industry and labor have partnered and committed to invest another $2 billion in private sector projects.  Obama notes that "making our buildings more energy efficient is one of the fastest, easiest and cheapest ways for us to create jobs, save money, and cut down on harmful pollution."

In 2010 the GSA (Government Services Administration) issued a new mandate, requiring all new federal construction adhere to LEED (Leadership in Energy and Environmental Design) Gold requirements.  The program developed by the US Green Building Council, which is a private not-for-profit organization, includes standards and a certification system for green buildings.  Across the country, many states, including the Commonwealth and municipalities have developed various green building codes for government buildings.  As a result, there are numerous LEED certified buildings in the region.  Many of them are sited on military bases and other federal or state facilities, like universities, and local municipal centers. Info about state and municipal programs can be viewed at DoE's DSIRE site and the USGBC site.

Given the number of municipal projects included in the LEED listing from Williamsburg to Norfolk, it appears that most cities encourage LEED even if it is not specifically codified.  Chesapeake and Hampton do have LEED requirements regarding new construction of public buildings while the City of Virginia Beach public school system requires that all new construction be LEED certified.  Last Spring, the school system was selected for an environmental achievement award by the EPA and more recently received an award for Green Leadership from the James River Green Building Council. The completed LEED Gold Renaissance Academy boasts a 16,000 sq. ft. living green roof which reduces heating and cooling costs and runoff.  A rainwater harvesting systems is used to reclaim water for toilet flushing and saves some 3.8 million gallons of water per year.  Both solar thermal and PV systems are incorporated into the structure (pictured above and below).  Currently under construction, College Park Elementary School is slated for LEED Platinum certification.  In addition to a large green living roof and a system to harvest rainwater for toilet flushing, collected water will be used for a solar thermal in floor radiant heat system.  Expected energy use is half of that allowed by code.
Renaissance Academy -Virginia Beach Public Schools - 16,000 sq. ft. green "living" roof.

The pace of residential green construction and clean energy improvements has also grown.  In addition to the LEED projects cited above, examples of local green residential projects can be viewed at http://www.HRSolarTour.com. The Hampton Roads Solar Group which is part of the Hampton Roads Green Building Council organizes a free annual tour of solar homes every Fall in conjunction with the American Solar Energy Society's National Tour.  Not all the sites are LEED certified and some have other "green" certifications.  As there is a cost connected with certification, despite meeting or exceeding the criteria, many folks do not seek any designation.  The Garden Atriums, a small solar community in Poquoson developed with zero energy consumption in mind has no green certification, nonetheless it is a popular site on the tour and is featured in the next post on this site.

Incentives are also being marketed to drive the green building trend.  A 30% federal tax credit for energy efficient and renewable energy investment is available.  But often it's not enough to offset significant upfront costs for many homeowners.  Some 23 states including Virginia have passed PACE program enabling legislation, which would allow municipalities to develop property tax financing initiatives.  Unfortunately the program was virtually derailed by federal mortgage rules and was not adopted by any Virginia localities. There are still potential opportunities within the PACE framework. Florida has created the Ygrene program with Barclays to provide solar financing outside of Fannie Mae and Freddie Mac's jurisdiction while New York is developing an on-bill financing program.  Essentially it allows participants to pay back loans for energy efficieny and renewable energy upgrades using a surcharge on local utility bills. By selling solar/renewable energy credits (SRECS), it is possible to generate revenue from a renewable energy installation.  Virginia also has net metering legislation allowing for the return feed and sale of excess energy produced to the utility.  A voluntary solar fund was established by the Virginia General Assembly recently to provide loans for eligible solar energy projects.  To date the program is largely underfunded and without significant donations is not likely to be able to finance any projects.  With a source of funding it could be a great resource.

Locally, there are also a few municipalities with policies that promote energy efficiency and renewable energy projects.  According to Richard Good of Solar Services, Virginia Beach offers reduced property taxes for buildings that use 30% less energy than required by code.  Richard's building was the first certified by the City. Hampton exempts the value of solar systems from property taxes while both Suffolk and Virginia Beach have codes allowing for small scale wind turbines. Dominion Power is also working to develop a community solar project that will involve leasing the rooftops on large public and commercial buildings.  In other parts of the country there are companies offering solar leases.  Without upfront and maintenance costs, it is a viable option for folks who cannot afford to invest in solar but want to be involved in clean energy generation. 

To keep up with projects, policies and initiatives, check out the Green Building page on a regular basis.  If you would like something posted about a sustainable endeavor or policy, please send information for consideration.
Posted by Carol Brighton - 7 December 2011 - Images: Virginia Beach City Public Schools
---
With Shining Views, Poquoson Community Focuses on Sustainability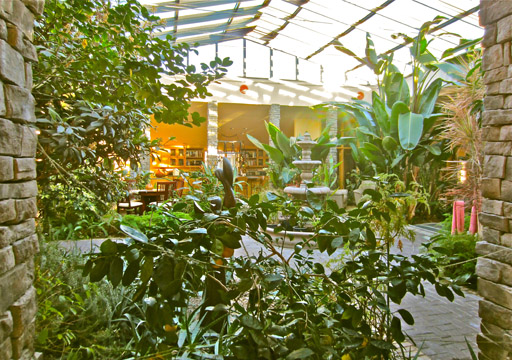 There's something intrinsically appealing about a room with a view.  While the Garden Atriums of Poquoson are sited to take advantage of scenic wooded wetland and pond overlooks, it is the sunshine filled interior view that is the real attraction and highlight of every unit.  A sky lighted garden atrium is at the heart of each home.  With internal glass walls, every room looks through into day lit tropical greenery.   The traditional Mediterranean style homes are cubically designed, but include many "out of the box" sustainable components.  As a result, Stuart Rose and Trina Duncan, the community developers, have received a lot of attention over the years.  

Stu and Trina began their sustainable quest over a decade ago.  Their goal was to create a self sufficient community that would appeal to everyone.  As Stu put it "we work to make each home beautiful so people don't feel like they have to sacrifice for the sake of the environment."  In 2002 they completed the first unit and just recently completed and sold the sixth unit. 
The passive solar homes are all oriented south to capture and distribute the sun's energy in the winter.  Thermal mass in the garden area serves as a heat sink and slowly releases heat through the night.  With a highly insulated well sealed building envelope, residents rarely require heat supplied by a geothermal system.  In the summer, blinds or awnings are used to inhibit heat collection and the geothermal system is used for cooling.   All the units are also equipped with thermal solar collectors for hot water and photovoltaic systems to supply electricity.  Conveniently, more electricity is produced in the summer months when it is needed most.  Stu estimates that they average $45/month for electricity as any excess produced is sold back to the utility. 


Water bills are likewise low or nonexistent.   Cisterns are used to store harvested rainwater from the rooftop collection system.  The newest homes are not hooked up to city water and rely solely on that collected although they are also connected to a well in the event of a drought.

Air quality considerations are also important in home design.  No off gassing materials are used in construction or in interior products.  And in addition to bearing some fruit, decorative garden plants remove pollutants from the air and increase indoor oxygen levels.  With the healthy indoor air environment, Stu has noticed that the symptoms of allergy sufferers disappear on extended visits.
It's not just the homes that incorporate environmentally friendly features.  Stu and Trina have developed the landscape in a sustainable manner.  Stu recalls that they "introduced the concept of cluster zoning to Poquoson planners."  Rather than use all the acreage for a traditional block style development, all the homes are clustered together on one part of the property and the remaining acreage edged by a tidal creek is community land.  Terracing and xeriscaping are utilized in common areas and there is an organic garden on site as well as numerous fruit bearing trees.

As the only sustainable community in the area, Stu and Trina regularly open their home up for tours.  The last three years they participated in the Hampton Roads Green Building Council's Solar Tour which is free and open to the public.  They also routinely have students and other groups visit.  One home is currently for sale and there is one lot left for a custom build project.  For more information, visit the Garden Atrium Website. Posted by Carol Brighton 12/14/11
---
Viability of an Eco-Village Explored at William and Mary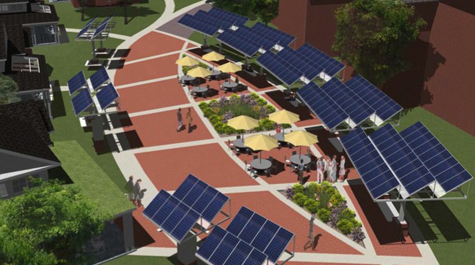 The college already has several LEED Gold certified buildings on campus and is planning a new Greek row consisting of 11 buildings that will be certified silver.  A group of forward thinking students, faculty and staff are looking to do more.  They want to see a resource efficient and sustainable eco-village on campus.   Their idea is to develop a site that showcases different features and can be used as a learning tool – where analysis and comparison of actual and perceived benefits can be studied.
The community would replace an existing student housing complex and incorporate passivhaus design concepts into  7 homes and a coffee shop.  All the units would be highly insulated, well sealed and designed to take advantage of natural light and passive heating and cooling.  In addition to geothermal systems, solar hot water systems would be included in some units.  The homes would be supplied by electricity generated by 183 solar panels in a solar plaza which is expected to reduce grid provided energy consumption by 75%.  With low flow plumbing fixtures, water use would also be reduced.  A grey water system may be employed in one unit and rain water would be harvested for irrigation on other units.   The site would also be developed to minimize runoff.  One unit will likely sport a green living roof and pavement that is water permeable will be laid.  Landscaping would include native vegetation and rain gardens.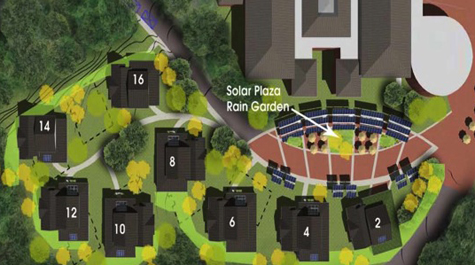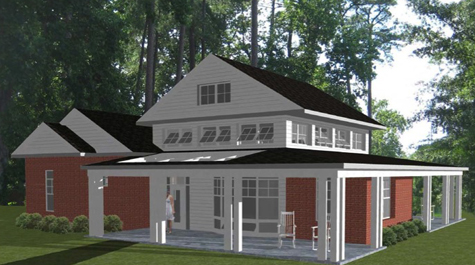 The idea of a living machine or an ecologically engineered waste water treatment system is also being considered (images can be viewed on the Global Green Building Tour).  The projected cost of the project is $5.6 million dollars.  Funding has not yet been arranged.  Visit the William and Mary website for more Information.  By Carol Brighton 12/17/11 - Images courtesy of William and Mary.
---
Winning Wetland Protection in Virginia Beach:  A Developing Story (or not)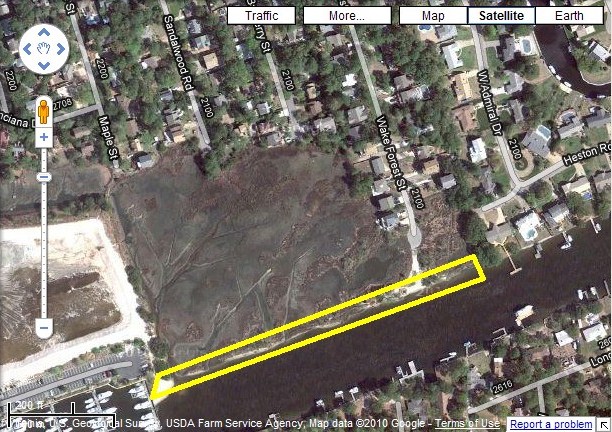 Pleasure House Point Purchase Planned while residents rally to stop city plan and preserve Long Creek Wetland (pictured at left).
Public interest in and support to restore the Lynnhaven River has culminated in a plan by the City to protect the last large tract of undeveloped land bordering it.  Some 100 acres off of Shore Dr. known as Pleasure House Point was originally slated for development.  But, due to long term citizen protest and the collapse of the real estate market, development plans have dissolved as the property was foreclosed upon.  Encouraged by relentless citizen outcry and nonprofit support, the City is now looking to finance a deal to purchase the property.  It's not yet a done deal, but a bright light is shining at the end of a long long road.
At the same time the City is working to restore the Lynnhaven and protect Pleasure House Point, it is putting another Lynnhaven wetland at risk.  Just a few miles away, along Long Creek, a few acres of vital wetland sandwiched between a marina and residential neighborhoods stands to be harmed by a city plan.  In exchange for a site to operate an industrial dredge spoils transfer station (next to the Long Creek wetland), the City intends to support a marina expansion in the waterway directly in front of the entire expanse of the wetland.  To accommodate 45 or so 50 foot watercraft, dredging and maintenance dredging in front of the wetland and in the main channel will be required.  All of this activity threatens the health and vitality of this wetland.
If anything can be taken away from the Pleasure House Point saga, it's that perseverance pays.  After years of fighting development plans (once supported by the City), the parcel appears to be safe.  And those that oppose the Long Creek plan, appear to be on the right track.  Recently, Long Creek locals gathered at a private home to raise awareness, garner support and strategize on how to protect the wetland.  Cox High School students participated by manning computers to help participants sign a petition, write letters and entertain.
To learn more about the importance of wetlands, the city's plans, and the impacts of dredging, view the Long Creek Page.  There you will also find links to local press coverage and pictures of the Long Creek Wetland.  A petition against the project (with over 1000 participants) can be found at www.LongCreekWetlands.com.
If you are a member of Lynnhaven River Now or the Chesapeake Bay Foundation,  contact them and ask where they stand and how they can help.  And of course, contact your local representatives.  Contact info is available on the LongCreekWetlands site. Check the Long Creek Page for updates as this story develops. To learn more more about Pleasure House Point and other local preservation endeavors go to the Conservation page (older info can be found in the Archive). By Carol Brighton 5/2011
---

Catch of the Day: Wind Power?
It's not on any restaurant menu, but harvesting offshore wind energy has created quite a buzz in the region. Given the concerns associated with traditional power production, it's a welcome sign to see that the government and private sector are gearing up to tap the vast and benign energy in offshore wind.   Numerous consortiums, committees, etc.  have been formed to explore and navigate the uncharted  US waters associated with wind farm development on the outer continental shelf. 
Leaseable areas 20 miles off the east coast have been identified and  the federal government is working to streamline the permit process.   The Atlantic Wind Connection(AWC) which includes Google as one of it's main backers, has committed $5 billion to constructing an offshore transmission system extending from Virginia to New Jersey to distribute energy generated offshore.  It would seem that the existence of such an infrastructure would stimulate farm development.  But there is potentially some controversy.  NJ regulators are concerned that the fees associated with using AWC's transmission line will prove to be more costly to consumers than if each farm ties into the grid via their own network.  Numerous lines extending across the seafloor do not make sense either, so this is just one of many issues to be resolved by all  involved .
Despite the uncertainty and the challenges that lay ahead for this emerging  industry, momentum is moving forward at a fast pace.  A host of companies participate in the Virginia Offshore Wind (VOW) Coalition and are working to support and /or develop wind farms.  And, jobs are being created.   Recently, Northrop Grumman and Gamesa, Spain's largest turbine manufacturer, teamed up to design and build an offshore turbine.  Their offshore wind research  facility opened  in Chesapeake last fall.  Meanwhile, blade manufacturer AC Wind announced plans to set up shop on the Eastern Shore.  Click here for current wind news. The Archive now also contains a lot of recent news.
By Carol Brighton 3/2011. Image: GE - Arklow, Ireland.
---
The Future of Ft Monroe -Preservation Expected in Presidential Proclomation

The strategic and historically significant Army fort sited at Hampton Roads near the mouth of the Chesapeake Bay formally closed in Mid September.  With the closure, management of the complex returns to the Commonwealth of Virginia:  The disposition of which has been the topic of discussion since the Army announced the base closure in 2005.  

In addition to some sort of development, it's expected that part of the over 500 acre site will be protected by inclusion in the National Park system.  There's been a great deal of support for preservation.  As noted by Interior Secretary Ken Salazar, "We have heard loud and clear from the local community, Commonwealth and federal officials, and stakeholders everywhere that Fort Monroe is a place of unique historical and cultural significance that merits protection – and we agree….  Fort Monroe helps tell the compelling story of our nation's arc from the Civil War to Civil Rights. With such a rich history, it's no wonder that so many feel passionately about ensuring the site is preserved for future generations. We look forward to continuing to work hand-in-hand with the Commonwealth and local partners as we review the site and its future potential." 

Later in remarks to the Associated Press on September 21st, the Interior Secretary said that he is taking the discussion to the White House.  Under the authority of the Antiquities Act, President Obama has the power to preserve the site as a "national monument."   If he chooses to act on this authority, he will be in good company as this has been a successful preservation tactic employed by the likes of Presidents Theodore and Franklin Roosevelt to protect places like the Devil's Tower, the Grand Canyon, and Grand Tetons National Parks.

This post will be updated periodically.  For current news links, check the Conservation page.  Also visit the Citizens for a Fort Monroe National Park website and the Fort Monroe Authority.  CBrighton 9/11
FINALLLY ANNOUNCED- 11/1/11 - THE WHITE HOUSE Office of the Press Secretary - For Immediate Release November 1, 2011 - ESTABLISHMENT OF THE FORT MONROE NATIONAL MONUMENT ------- BY THE PRESIDENT OF THE UNITED STATES OF AMERICA A PROCLAMATION
---
Hampton Roads Solar & More Tour - Saturday & Sunday October 1 & 2

In conjunction with the American Solar Energy Society's National Home Tour, folks across the country including Tidewater will have the opportunity to view and investigate local green building technologies incorporated into homes and businesses the first weekend of October. This free local tour organized by the Hampton Roads Solar Group of the Hampton Roads Green Building Council is scheduled for two days - Saturday October 1 for sites on the Peninsula and Sunday October 2 for sites on the Southside. Approximately 20 locations are featured on the tour. In addition to passive solar design, pv and solar thermal sytems, attractions include a wind turbine, green (living) roofs, water catchment systems, ICF construction, spray foam insulation, and infloor radiant heating. Bus tours are an option on both sides of the water or you can simply print out a tour map and visit the sites that interest you. For more information and to register for the tour, go to HRSolarTour.com. CBrighton 9/11
---
Tidewater Team to Take on the World in Solar Decathlon
This fall as select universities compete in Washington at the Department of Energy's Solar Decathlon (an international solar home design contest), a Tidewater Team will be among the group.   Team Tidewater, students and faculty from Hampton University and Old Dominion University, won a bid to compete with their design submission of "Unit 6 Unplugged."   Unit 6, the top floor prototype unit for a 6-unit apartment building will be on display alongside structures hailing from as far away as New Zealand and China.
Planning for the project began over 2 years ago.  Entries were due to DoE in the summer of 2009. Later that summer the winning submissions were announced. Since then, the 20 teams selected to participate have been working furiously on their designs.   First and foremost, the home must produce all the energy needed via solar power.  So, they must also be very energy efficient. In addition to photovoltaic electric and thermal hot waters systems, the design and feel of the house is meant to reflect the team's geographic region and include locally produced products.   In 2009, Cornell University's entry was constructed of old grain silos commonly seen in upstate New York.  Many units also incorporate rain and grey water catchment/storage systems for irrigation.   And native Plants are often employed to provide shade and insulation in roofing and along walls and to treat and reduce runoff.
With only 1000 square feet as an allowable limit for living space, one of the biggest challenges teams face is coming up with an aesthetically pleasing layout.  Because the size limitations and the need to deconstruct, transport and reassemble the units, many past designs have been remotely reminiscent of a shipping container.  Team Tidewater met the layout challenge creatively by designing their home in modules instead of as one long narrow unit.  Another unique feature is a three season porch.  With operable windows the porch is transformed into a sunspace that will capture, store and transmit heat in the winter.
Unit 6 Unplugged is currently being constructed on ODU's campus.  It is expected to be ready and open to tour in July (see below for more info).  Later this summer the team will face the task of moving the unit to DC.   Once on display, it will be scrutinized by the curious public and judges alike.  Points are awarded in 10 categories including architecture, market appeal, engineering, affordability, appliances, hot water, home entertainment, energy balance, communication and comfort zone.  In the past, Virginia teams have fared well.  In the inaugural event of 2002, UVA won second place and last summer at Europe's first Solar Decathlon, which is modeled after DoE's event, Virginia Tech won first place.
In addition to overall and individual category awards, there is a Peoples' Choice Award.  Originally set to take place from September 23 through October 2 on the National Mall, where the last 3 events were held, it will be moved to another location this year: West Potomac Park – along the tidal basin across from the Jefferson Memorial. 
Can't make the trip to DC?  Unit 6 can be viewed at the Team Tidewater Site and all the homes in the Solar Decathlon can be viewed at the Solar Decathlon website. In addition,  HRGBC is hosting a Tour of Team Tidewater's Solar Decathlon House (at ODU) Tuesday, July 26, 12-2 p.m .- 48th and Powhattan Rd, Norfolk. RSVP/info at admin@hrgbc.org.   A local tour of solar homes is also scheduled for the first weekend in October.  The tour is coordinated by the Hampton Roads Solar Group and the Hampton Roads Green Building Council in connection with the American Solar Energy Society 's National tour.  For more information visit www.hrgbc.org or www.hrsolartour.com. By Carol Brighton 3/2011(updated 6/11)/Image:  Team Tidewater
---
Fresh from the Farm – CSA Memberships Growing in Popularity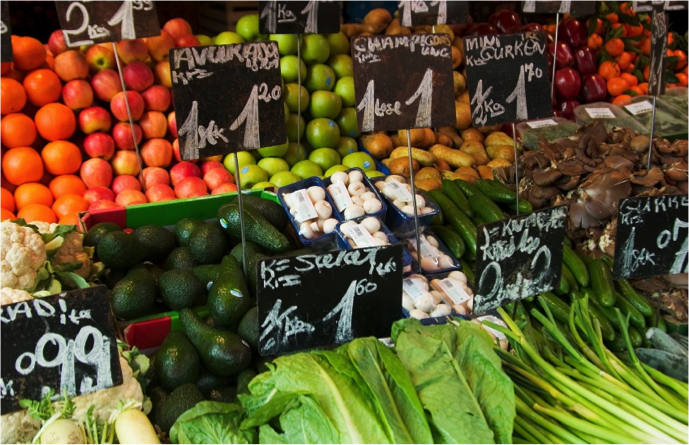 To keep organic farms running and fresh products on our table, a concept known as Community Supported Agriculture has been gaining support.   By buying a share in a farm for a season, members offset the enormous upfront costs farmers have to cover and in exchange, receive product throughout the season. The practice is spurring the growth of small sustainable farms and is keeping fresh, vitamin rich and chemical free food available.  Many farms participate in farmers' markets and distribute product shares (usually a basket or bag) there.  Delivery to host sites for consumers who don't live conveniently near a farmer's market is a growing trend.  Depending on where you live, there is probably a farmer's market or CSA delivery site close by. Check out the extensive (but not necessarily thorough) listing of organic producers.
The cost of joining a CSA varies and each farm includes their unique products.  For a May – October seasonal membership and weekly product supply, expect to spend in the neighborhood of $400.   Not only will you enjoy a superior product fresh from the field, but you support your local economy.  Mattawoman Creek Farms CSA membership is full for this season, but others farms still appear to have openings.
Carol Brighton 3/2011