Tidewater Current | Summer 2012
Transmitting news and infomation about sustainable endeavors in Coastal Virginia and beyond. Updated Weekly.
Building and Infrastructure:
For the most up to date and illustrated newss, visit the TidewaterCurrent Snip.it collection.
LOCAL & REGIONAL NEWS (scroll down to see more news):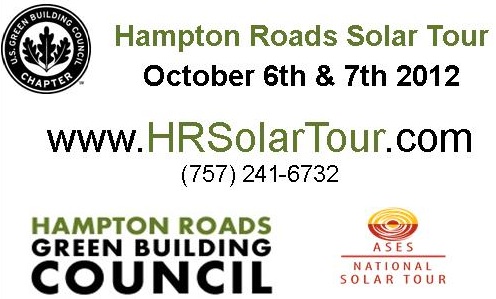 FREE Hampton Roads Solar & More Tour - Saturday & Sunday October 6 & 7. In conjunction with the American Solar Energy Society's National Home Tour, folks across the country including Tidewater will have the opportunity to view and investigate local green building technologies incorporated into homes and businesses the first weekend of October. This free local tour organized by the Solar Group of the Hampton Roads Green Building Council is scheduled for two days - Saturday October 6 for sites on the middle Peninsula and Southside and Sunday October 7 for sites on the Peninsula. Approximately 30 locations are featured on the tour. In addition to passive solar design, PV and solar thermal sytems, attractions include a wind turbine, green (living) roofs, water catchment systems, ICF construction, spray foam insulation, and infloor radiant heating. This is a self guided tour. Simply visit the HRSolarTour website and register to get maps, addresses and detailed descriptions of the tour sites. Go to HRSolarTour.com.
9.20.12 - A Quaker Meeting House That's Friends With Nature - earthtechling.com- Washington, DC - This LEED platinum renovation incorporates ceiling planes which allow natural daylighting.
9.11.12 - Living Machine System Selected for Wastewater Recycling at New Pennsylvania School; Largest On-Site Wastewater Reuse SystemPermitted in State of Pennsylvania - marketwatch.com. Ecological water treatment employed at Evergreen Elementary designed and installed by Charlottesville, VA company Worrell Water.
9.5.12 - Fourteen Local Governments Receive Technical Assistance for Green Infrastructure Projects - nfwf.org. City of Hampton, Virginia - The City will adapt the Virginia highway beautification program to include bioretention and other innovative stormwater practices in medians and rights-of-way. The City of Hampton will service as a demonstration for a model to be scaled up throughout Virginia and elsewhere.
9.4.12 - Campus RainWorks Challenge - water.eap.gov. EPA program invites university student teams to submit green infrastructure plans for cash awards.
8.29.12 - Shedding Light on the Solar Decathlon 2013 Teams - energy.gov. Conceptual image of the Team Tidewater Entry shown. The DoE site includes a listing of all the teams competing in the 2013 Solar Decathlon next Fall in California. Links are included to all Facebook and web pages.
8.29.12 - CEED earns platinum energy certification - The Franklin News Post - LEED Platinum certification awarded to Virginia School. Designed by Adam Cohen, the school also meets Passive House standards.
8.27.12 - A LOOK AT LIVING MACHINE SYSTEMS - dwell.com. Living machines are essentially constructed wetlands that filter pollutants from waste water. The technology developed some 25 years ago was first used commercially at the Ben and Jerry's ice cream plant in Vermont to treat waste water. It' has since been licensed and adapted by a Virginia Company, Worrell Water, to treat water in commercial buildings.
8.27.12- The Farmery: A Pop-Up Urban Farm Made From Recycled Shipping Containers for Raleigh, NC - inhabitat.com. "The Farmery is a start-up in Raleigh, N.C. that is developing an urban farm and market built from shipping containers and standard greenhouse components. The bottom level serves as a market to sell the crops, and the entire structure is used to grow the crops. The structure uses the inside of the containers to grow mushrooms, and the walls of the containers are covered in growing panels to form living walls where herbs, strawberries, lettuces and greens are grown
Conceptual Rendering of the Chesapeake Bay Foundation's Pleasure House Point Center
8.23.12 - Chesapeake Bay Foundation to Create "Living Building" in Virginia Beach - CBF . As noted in the linked press release, a living building must meet stringent energy, water, site standards and more. The only issue here will be the site, specifically to qualify for the standard, the site must be a redevelopment of a brown or greyfield and not be part of a sensitive ecological habitat or within a 100 year flood plain. The building will be construted upon spoils from dredging some 40 years ago and as an education/interpretation center highlighting the coastal environment, there are siting exceptions that will have to be considered for certification.
8.18.12 - Floating platforms support species that improve water, look good - onlineathens.com. Several of the floating wetlands, which filter pollutants and provide habitat, have been anchored around the Tidewater area including the Virginia Zoo, William and Mary, in the Elizabeth River and under the Coleman Bridge at VIMs. The mats pictured are at VIMs and are comprised of salt tolerant plants
8.17.12 - Just Two Minisplits Heat and Cool the Whole House - greenbuildingadvisor.com. Very interesting net zero homes using innovative heating and cooling system. These ductless low cost devices have been installed in 18 houses in Massachusetts and in numerous other homes around the country, including one currently for sale in Charlottesville, VA.
8.12.12 - The Netherlands' "Inspiration House" Models Cradle-To-Cradle - earthtechling.com. Dean of the UVA Architecture School part of the team that provided the inspiration for this PV building integrated structure that contains a living wall, collects rainwater, recycles grey water and treats its blackwater.
8.8.12 - Masonic Amphitheatre is a Prefab Stage on a Reclaimed Site in Virginia - inhabitat.com. Virginia Tech students design and build outdoor stage out of locally sourced materials and assemble it on a reclaimed industrial site adjacent to a creek in Clifton Forge. Pervious pavers were also used in the community park to limit storm water runoff into the creek.
8.6.12 - Fort Monroe Master Plan - ideas.fmauthority. View the plan and submit your comments. 25 days remaining.
8.6.12 - DC Offers Rebates on Green Roof Installation- georgetown.patch.com. To reduce storm runoff and pollution in Chesapeake Bay tributaries, DC is offering $5 per sq. ft. rebate for green "living' roof renovations.
FavoriteResnip
8.2.12 - Exclusive Pics: Apple Breaks Ground at Mystery Data Center | Wired Enterprise | Wired.com - LEED Platinum building with 100 acre solar park.
7.30.12 - Das Haus Tour Washington D.C. | Innovation in Renewables and Energy Efficiency -Tour opens tomorrow. Visit site for listing of events.
7.24.12 - Re-Barn: Autotroph Converts Iconic Tobacco Barns into Green Solar-Powered Homes - inhabitat.com. A design for an Ann Arundle MD barn preserves history while creating a sustainable living environment. In the interior an engineered wood frame reinforces the structure and contains energy efficient panels. With solar and rain water collection systems and a constructed wetland to treat wastewater, Re-barn will be a net zero home.
7.21.12 - Actively passive: Melding green living with a stylish design - readthehook.com. First Passive House in Virginia. Charlottesville home is for sale for $598,000.
7.15.12 - D.C. unveils plans for awesome new green neighborhood - grist.org. The SW Eco District will be a 110 acre, 15 block neighborhood with improved pedestrian access, a solar roofed metro station and freeway and water capture and reuse systems. The costs of the improvements are expected to returned in reduced operating costs.
7.14.12 - Roanoke dental practice moving into new 'green' building - www.roanoke.com. Passive House design by Adam Cohen co-owner of Structure/Design. More info: http://www.structuresdb.com/commercial/green_building.asp
6.28.12 - Capturing stormwater naturally in Lancaster, Pennsylvania - Chesapeake Bay Program - Green infrastructure is reducing runoff and pollution. This article highlights efforts undertaken far away from the Chesapeake Bay in Lancaster County Pennsylvania to improve water quality and the natural methods used are less costly and more effective than than traditional storm water collection and treatment.
6.26.12 - San Francisco debuts North America's 'greenest urban office building' | SmartPlanet - Waste water treated via living machine system (pictured) designed by Worrell Water of Charlottesville, VA.
6.19.12 - Hemp Homes Grow a Movement [Video] - jetsongreen. Ashville, NC Hemp home started a movement - See video -
6.15.12 - Eco-friendly model home in Maryland reflects green movement's edging into the mainstream - washingtonpost. KB builds net zero home in Waldorf, Md.
6.10.12 - Crisper Products investing in Orange County - www2.starexponent. Aquaponics facility to be sited between Gordondsville and Orange, VA. Fish and produce will be grown naturally in a closed recirculating systems. No pesticides will be used and fertilizers for the produce are provided by fish (trout, shrimp and tilapia). Wind turbines and solar panels will help power the greenhouse facilities. Crisper Products will deliver North up to Baltimore and DC and South to Richmond and Charlottesville and West to Fredericksburg.
6/12/12- The Greenest House In Arlington Is Now On The Market - dc.curbed. Arlington, VA - Open house in Sat. or view lots of images that highlight green features of this Million Dollar Passive House (one of only 3 in the DC metro area.
6.6.12 - DC high school students learn green roof design - examiner. Fish and Wildlife Service Grant for innovative storm water management funded the GreenWorks-Phelp High School Project that will teach 20 students how to build green roofs. Once completed, 4 demonstration roofs constructed by the students will reduce runoff and thereby reduce pollution entering the Chesapeake Bay watershed.
---
MORE NEWS: Please visit the TidewaterCurrent Sustainable Design-Green Building Snip.it Page for current news and many more illustated clips.
SD Europe's Videos on Vimeo - Solar Decathlon Europe Videos - Open September 14-30, 2012 - Casa de Campo de Madrid
9.20.12 - Net-Zero Energy Homes in Grow Community - jetsongreen.com - Bainbridge Island, WA - "The eight-acre project is the first residential One Planet Community in North America (issued by U.K. non-profit BioRegional). However, in addition to this recognition, the aim is net-zero homes and an entirely net-zero energy community by 2020."
9.17.12 - Chemical-free swimming pools are teeming with life | SmartPlanet - Instead of chemicals, plants and microorganisms flourish and filter nutrients from pool water. Includes a photo gallery.
9.17.12 - Micro-Algae Tested for Green Building Facades - ecohomemagazine.com. New facade system developed in Germany uses louvers that grow micro-alge. Algae in the bioreactors (louvers) grow faster in bright sunlight creating needed shade and reducing cooling demand. The algae can also be harvested for energy.
9.15.12 - Sanitov Unveils Eco-Lux Floating Home at This Year's London Design Festival - inhabitat.com. Wow. With 2 floors this 3 bedroom 2 bath highly efficient well sealed floating home is solar powered and boasts an interior green living wall while a green roof is also planned for the terrace.
9.14.12 - Indian River School District hopes to save money with thermal energy storage plant - tcpalm.com. Vero Beach, FL - "With thermal energy storage, water is frozen at night and stored in large tanks. During the day, the chilled water is pumped back through the system to operate the school's air-conditioning." The system will cost $3.5 million to install and is expected to save over $30,000 per month which equates to an 8.6 year payback.
9.11.12 - MMSD chief invited to White House to talk green - JSOnline - Milwaukee planner will talk about his vision for green infrastructure, including living and permeable urban landscapes that minimize stornwater runoff and limit pollution of waterways. His hope is that some kind of federal tax credit will be developed to encourage community participation, like those offered for energy efficiency or renewable energy projects.
9.7.12 -McGee Salvage House in Berkeley, CA - lwarc.com. "Over 100 salvaged car roofs cover the upper walls of this house. The roofs were sawed out of grey cars left for parts in local junk yards. The lower walls are clad in poplar bark, a waste product from the furniture industry of North Carolina. The awnings are fabricated from junked Dodge Caravan side windows."
9.6.12 - Is London Serious About Building a Network of Elevated Bike Lanes? - theatlanticcities.com. SkyCycle paths (a cycling highway) envisioned by Sam Martin of Exterior Architecture has received attention from the Mayor of London and meetings are moving forward with the company that owns the city's overground infrastructure. More on cycling in Clean - Eco Transport collection.
9.5.12 - Japan's Omotenashi House to Promote a Self-Sufficient Lifestyle at 2012 Solar Decathlon Europe - inhabitat.com. Solar provides all the power and food too. A green curtain surrounds the structure, providing shade and produce. A veggie factory is also incorporated indoors on shelving in a wall with LED lighting and a rice paddy is included instead of a lawn
8.26.12 - Climate Adapted Neighborhood / Tredje Natur - archdaily.com. The focus of the new community development in Copenhagen is rainwater management and optimizing infrastructure to deal with the changing climate and the heavier rainshowers they have been experiencing in Copenhagen. Infrastructure is being designed to capture and hold rainwater longer (with green roofs and gardens), so it has time absorb before running off into the harbor. Bike baths are also being designed to act as stormwater channels.
8.25.12 - Testa Talks Turbine: Checking In On The South Side's Wind Turbine - chicagoist.com. Testa Produce in Chicago built its LEED Platinum distribution facility among the brownfields of what used to be the Union Stock Yards. But what is catching peoples attention from miles around is the massive 250 ft. wind turbine that produces 30% of the facility's energy (and on 15 days last year 100%). The payback on the wind turbine is 10 years. Solar panels provide another 10% of energy requirements and they will also power two electric delivery trucks beginning next month. See more architecture news in Sustainable Design - Green Building.
8.23.12 -With Funding Tight, Cities areTurning to Green Infrastructure - e360.yale.edu. Numerous examples of green infrastructure projects are highlighted. Diverting stormwater through bioswales, permeable pavement, green roofs, rain barrels and more are often less costly and more efficient in protecting our waterways from polluted runoff. In Sweden, sewage sludge is being treated by nature and pumped onto fields of willows which filter pollutants. When harvested, the willows are chipped and used to generate electricity.
8.22.12 - Eco-Village: Sustainable, affordable - startribune.com. Habitat for Humanity's eco village is under construction in Minnesota, just outside the Twin Cities. And the 18 green homes will be affordable. With mortgages of of $130,00-$140,000, owners will have a monthly payment of $500-$600 per month. And, with solar PV installed and a geothermal system with radiant in floor heating and cooling, electric bills will be next to nothing. Rain water will be collected to nourish the edible landscaping surrounding the properties.
8.20.12 - BISEM Installs PV Curtain Wall Retrofit - solarnovus.com. Building integrated solar curtain system retrofitted onto the existing LEED Platinum SMUD customer service center. DC electricity generated by the thin film panels will run a cooling system in the technology demonstration center. See more clips in Sustainable Design-Green Building collection.
8.19.12 - Farmville on the Hudson - crainsnewyork.com. Several rooftop farms are highlighted in NYC. They are becoming very popular and draw significant attention to the buildings overall. In addition to providing local produce and generating rental income, they provide insulation and thereby reduce heating and cooling bills. And, they protect the roof extending, its effective life two to three times.
8.13.12 - Solar home: Passive design is easier, more effective than you'd think - denverpost.com. Homeowners can save 80 to 90 percent of their energy budget by using passive solar techniques. Author discusses a passive renovation in Denver.
8.13.12 - Green Home Construction Commences at First Florida Hemcrete Project - prweb.com. Hemp and lime-based building construction material is being used to create an affordable green home that can withstand wind speeds of 123 mph, is pest and fire resistant, breathable and has no VOCs.
8.10.12 - Why Our Ancestors Built Round Houses – and Why it Still Makes Sense to Build Round Structures Today - inhabitat.com. "15 to 20% less mate­r­ial is used to cre­ate the same square foot build­ing com­pared to a rec­tan­gu­lar design! This means the possibility for a smaller eco-footprint and more living space for less cost. It also means less sur­face area in con­tact with adverse weather con­di­tions, which improves the over­all dura­bil­ity and energy effi­ciency of the home."
8.9.12 - Sustainable Communities for Yesterday, Today and Tomorrow - designbuildsource.com.au. Freiburg, Germany known as one the greenest cities in Europe is a model for sustainable development. In addition to infrastructure and building technologies that save energy, residents rely on wind and solar that is often integrated into building design for much of their energy. More clips on green building can be found in the sustainable design - green building collection.
8.9.12 - Game changer? Phase-change products boost building performance | SmartPlanet - Phase changing materials can store and release heat when needed. The author looks at advances in the technology and applications in buildings.
8.5.12 - ADOT grants promote biking, walking to school - azcentral.com. This Arizona program should be expanded nationally. The grants are provided to support infrastructure so that kids can ride and walk safely to school. There are obvious health and environmental benefits as well as economic benefits. Think of how much money school districts can save in avoided bus fuel costs.ADOT grants promote biking, walking to school
8.2.12 - Designing the vertical farm - economist.com/video - Several awesome architectural visions for urban-vertical farms, including one design for Newark, NJ.
8.2.12 -Expanded Cork Insulation Arrives in USA - jetsongreen.com. Made from cork factory scraps, the the recycled boards have an insulation rating of R3.6 per inch. The cost of R19 material is approximately $5.50/sq. ft.
8.2.12 - Phase-change drywall boards store and release heat to save power - gizmag.com.
7.31.12 - Earthship takes shape - winnipegfreepress.com. Canadian couple building Manitoba's first Earth Ship home. Made from used materials, like tires, bottles and cans, their home will regulates its own temperature using the sun and the Earth. Using the sun and wind, they will generate their own electricity. And they'll harvest water from rain and snow and treat their sewage and produce food.
7.30.12 - In California, A Green Dream Home By The Sea - earthtechling.com. LEED Platinum Renovation in Carmel hosts a rooftop solar system and garden. In order to create a semi-outdoor dining area, a retractable skylight was installed.
7.27.12 - Snoozebox is a Portable Container Hotel - jetsongreen.com. A scalable facility made from recycled shipping container can be moved to any location and construedted be constructed in a couple of days.
7.26.12 - Berlin Superhome Generates More Energy Than It Consumes - treehugger.com. More than enough energy produced to power the house, two vehicles and an electric bike. A battery is used for storage and extra electricity is sold to the grid. Link to a video tour included. See more in Sustainable Design-Green Building.
7.25.12 - This Singapore Building Is Home To The 'Office Of The Future' - businessinsider.com. Retrofitted net zero building is a test center for sustainable technologies. With solar panels, rooftop chimneys and fans to vent hot air, and gardens in interior and exterior walls and roofing, the build is energy efficient and produces all the energy needed.
7.25.12 - Keeping Cool With Green Infrastructure - americanrivers.org. Link to American Rivers Report- Growing Green: How Green Infrastructure Can Improve Livability and Public Health
7.22.12 - New wastewater discharge permit requires 'green infrastructure' - jsonline.com. Milwaukee waste water discharge permit is the first in the US to require rooftop plantings and installation of other "green infrastructure" to collect and absorb storm water. The cost of such an initiative is much less than digging more tunnels for traditional storm water diversion.
7.21.12 - Greenfield uses pervious concrete, garden to capture and purify water - triblive.com. Pittsburgh bioswale holds and purifies storm water.
7.20.12 - As Net-Zero Building Gains Speed, Portland Tests The Limits - fastcodesign.com. First Net Zero Higher Education Building in Oregon at Portland Community College Newberg. No AC needed, ventilation is provided through 5 large cooling towers.
7.20.12 - Bullitt Foundation's new green building - seattletimes.com. Video interview with Bullitt Foundation CEO. Denis Hayes discusses the vision for setting the example as the greenest commercial building in the world and challenges other developers to strive to undertake more sustainable projects. The 6 story net zero energy building is under construction now.
7.18.12 - Perfecting Solar Orientation Planning - designbuildsource.com.au. Light penetration without summer solar gain is achieved through clever design in Japan.
7.17.12 - Federal Funding in Green Infrastructure: Cleaning Waterways and Creating Jobs - switchboard.nrdc.org. Green infrastructure for storm water management reduces pollution in our waters and creates jobs. Numerous examples are cited in this article.
7.16.12 - Austin's Green Building Incubator: A Look at the Pecan Street Project - npr.org. Pecan Street Demonstration Project PBS video. Smart Grid Demonstration Project at Mueller - In a community sporting the largest collection of solar panels and electric vehicles in the US, a study is being conducted on the integration of clean energy into the smart grid.
7.14.12 - Construction on Whitehall's first 'green street' to start July 23. - mlive.com. The first green streets projects in Michigan. Porous concrete and bioswales will keep pollutants from entering White Lake.
7.13.12 - Building a better parking garage - smartplanet.com. Nice use of a parking garage. More parking garages should be used to provide parks and green space.
7.13.12 - A Home Where You Don't Have to Turn on the Heat - alloveralbany.com. Albany New Yorks' first certified Passive House uses 90% less energy than a conventional home. The well sealed passively designed home acts like a thermos. The owner did not have use heat once last winter.
7.12.12 - Project ARQtainer's House Liray Is an Earthquake-Resistant Shipping Container Home in Chile - inhabitat.com. 1,200 sq. ft. home recycled from 5 shipping containers.
7.6.12- Tiny Off-Grid Float Cabin Becomes Dream Retirement Home - treehugger.com - This self sufficient floating home in British Columbia also boasts a floating vegetable garden.
7.5.12 - Europe's First Carbon-Neutral Neighborhood: Western Harbour - earthtechling.com - Vastra Hamnen in Malmo, Sweden.
7.5.12 - San Francisco's Parklets Transform Parking Spaces Into Urban Oases - inhabitat.com - Great urban program. 2 dozen mini parks have been constructed and more are on the way in highly paved downtown San Francisco. Using parking spaces to provide greenery and common space will benefit the local environment and community.
7.3.12 -Solar Powered Cooling to Beat the Heat at World Cup Stadium designbuildsource.com.au. A showcase experimental stadium with a zero carbon cooling system has been erected in London to test the technology that will be employed in the dessert stadium constructed in Qatar. Solar power is used to to store a cooled material, phase changing or cryogenic, that can be employed to cool a stadium size area for several hours.
6.30.12 - SMUD, Partners Kick-off Battery Energy Storage Project | Green Energy News - SMUD and NREL test neighborhood battery storage systems to reduce demand on the grid at peak times. 15 homeowners are participating in the demonstration. They have either installed mini-refrigerator size batteries in their garages or share 4x4 sized batteries sited by the transformer. During peak use times, homes will draw energy from the batteries and they will be recharged at night when costs are lower (saving consumers money).
6.28.12 - Bauhaus Boat/Barge/Houseboat for Sale and Completely Solar Powered - cleantechnica.com. Fully solar powered DIY houseboat. Video included.
6.27.12 - Skanska and LMN Architects' Seattle Stone34 Complex Will Be Edible! - inhabitat.com. Brooks Sports new headquarters will be a living building. With literally edible walls that sprout herbs and berries as well as planted gardens around the building, workers and passersby will be encouraged to partake in the bounty.
6.21.12 - 'World's greenest buildings' get seal of approval - CNN.com. The Living Building Project certifies the Omega Center for Sustainable Living (Rhinebeck, NY) as "Living." The strict criteria can only be met after the building has been operational for a a year (to ensure it meets the standards it was designed to). It is only one of three such buildings certified.
6.20.12 - Can China Build World's Tallest Building In 90 Days? - designbuildsource.com.au. Prefabrication will make the super-fast construction possible. Broad Sustainable Building, the construction company, has delivered projects in the past in just a matter of days, so it is conceivable that they will construct the 200 story earth quake resistant and energy efficient building in the proposed time frame.
6.19.12 - BioSIPs in the Greenest Home in Canada - jetsongreen.com. Prefabricated straw bale walls used to build Living Building Challenge and LEED platinum certified home.
6.18.12 - More green water systems might be on tap for SFPUC | Amy Crawford | Local | San Francisco Examiner - sfexaminer. New headquarters for the SF public utilities has constructed waste water treatment plant known as a living machine designed by Virginia Co. Worrell Water. In addition to using 60% less water than other buildings and recycling and reusing waste water, the building also boast integrated solar and wind systems to provide 7% of energy needed. More info about the building can be found here
6.18.12 - Bamboo Buildings | Bali's Green Building Benchmark - designbuildsource.com.au. World' biggest bamboo structure home to fair trade chocolate and cocoa butter factory. The bamboo grows fast and is a strong material that can replace concrete and steel in buildings.
6.15.12 - New Study: Smart Roofs Could Transform California Energy and Water Use - cleantechnica. Green roofs will save energy, take in air and water pollutants, reduce runoff.
6.15.12 - Green-Roofed Cannon Beach Home in Oregon Generates More Energy Than it Uses - inhabitat. Stunning Energy positive home - follow link for more pics -
6.7.12 - Green residential projects transforming Allston neighborhood - The Boston Globe. Landlord turning 2 block area into a Green zone. New construction is LEED certified, while exhisting building will get green upgrades like rooftop solar panels. Tenants will be required to sign a "Green Declaration" promising a commitment to energy and water conservation as well as recycling and composting. The author notes that there are similar green residential area in other cities as well.
---
6.6.12 - Charlotte, NC - Spotlight Solar.
Beautiful solar structures.- spotlightsolar.
---
6.6.12 -Wind Mapping Study Looks at Turbine Feasibility for Boston High-Rises - marketwatch.
A sky farm of ten 50 kW vertical axis turbines on top of high-rise can supply 10% of energy demand. Info at: http://easternwindpower.us/about/
---
6.4.12 -Austin's 16th annual cool house tour.
---
Check the Archive for Previous Posts
All Rights Reserved. Disclaimer.