Transmitting news and infomation about sustainable endeavors in Coastal Virginia and beyond. Updated Weekly.
Fighting Fishy Activity in the Seafood Industry
Posted 2 February 2015 by Carol Brighton
The global seafood industry is fraught with illegal activity and ill gotten gain is served up on American dishes every day. By purchasing products commonly found at seafood outlets, US consumers unknowingly contribute to the black market.  Species substitution, criminal overfishing and piracy plague the seafood supply chain. Importing 90% of seafood, the US represents a lucrative market for contraband. According to Michele Kuruc of  the World Wildlife Fund, "the United States essentially helps drive illegal fishing that occurs around the world.  If we can successfully close our borders to illegal products, we can change that course." 
With Asian crab meat marketed as American, seafood fraud is an issue that hits close to home. Product traceability not only ensures quality and protects the interests of US fishermen, it prevents pirate activity and overfishing. In addition to dredging up complex global fishery concerns, many innovative solutions are explored below.
A Chesapeake Bay Icon Pinched by Seafood Fraud
Despite long-term limitations on harvests, blue crab stocks continue to decline. In high demand and short supply, prices are on the rise. As a result, cheaper product from Asia is flooding the market sometimes passed off as US product by unscrupulous actors in the seafood industry.  Reported in the the Baltimore Sun, "two million pounds of crab product from China traveled up the Chesapeake Bay into the port of Baltimore during the first 10 months of 2014. Another million pounds came from Indonesia. In total, more than 4 million pounds of crab from all over the world moved into the port."
Concern over deceptive labeling prompted representatives of both Maryland and Virginia to formally appeal to the President for assistance. Senator Mark Warner values the seafood industry in Virginia at over half a billion dollars per year and claims that the practice of repacking foreign crab meat and "labeling it made in the USA is dishonest and threatens the livelihood of thousands of Virginia watermen."  Senator Tim Kaine adds that "Consumers deserve to know that Chesapeake Bay products are really from the Chesapeake Bay." Shipped all over, the repercussions of mislabeling blue crab are far reaching and inferior product calls into the question the quality of a locally produced resource. 
Unfortunately, deceptive labeling is not an isolated issue and merely represents a microcosm of fraud found on a much broader scale within the global seafood industry. Similar scenarios are common. Shrimp, salmon, grouper, seabass, and cod are commonly mislabeled. Studies suggest that as much as 33% and more of US seafood is mislabeled, usually replaced with a low cost inferior fish, which has, in some cases, harmed human health.
High Seas Piracy
In addition to product mislabeling, pirate activity is pervasive. On the high seas, there is little oversight.  2/3 of the ocean lies outside of any nation's jurisdiction and the territorial waters of many countries are simply not policed.  High-tech vessels, some as big as football fields plunder vast unprotected ocean expanses.  As a result of unchecked overfishing, global stocks are collapsing. 85-90% of fisheries are now exploited at or beyond sustainable limits.  With demand for high value species increasing, fraud and illegal fishing are incentivized by financial reward.  Reliant on cheap foreign fish, some estimates suggest that a third of US imports are illegally harvested. Fraud occurs to cover up contraband, to avoid duties, and to increase profit by relabeling species or origin.
US fisheries are among the best managed in the world.  But as big exporters, we are trading highly valuable wild caught species for low cost aquacultured fish and wild species from foreign fisheries where supply chains are questionable.  
Fish Enters US ports Through a Murky Supply Chain
Fishing fleets in the United States are subjected to regulations regarding harvestable quotas, timing, bycatch and gear that can be used. The strict rules that our fishermen abide by are not imposed on or enforced in many foreign fisheries. Some harvests are transshipped at sea and cross several borders before reaching consumers.  With big money at stake, the true provenance of a catch is all too easily concealed. As a result, illicit seafood harvested in protected waters, beyond limits, out of season or with banned gear is entering into US commerce and undercutting the value of fish harvested by US fisherman. 
No where is this more evident than in the Alaska Crab Fishery. Jake Jacobsen representing the Bering Sea Crab Fishermen points out in testimony to the National Marine Fisheries Service that in 2013 the Alaskan Fishery brought in 84 million pounds of crab. The official Russian harvest of crab was 96.1 million pounds, however trade data shows that Russia exported 196 million pounds. That discrepancy of roughly 100 million pounds is attributed to illegal fishing. Some of it he describes as "grey market" fishing, where vessels licensed to fish for one species, say cod fish, target another species, in this case crab. Vessels flying flags of convenience also operate in the Bering Sea and offload catch at sea that is transported to China, South Korea and Japan for processing. There is it illegally documented or co-mingled with legally caught product and put into the supply chain. He notes that "the primary destination for this crab is the United States, where it undercuts the hard work and disrupts the market for Alaskan fishermen who must compete with this cheaper illegal product." No country of origin labeling is required for processed crab, so it is impossible for consumers to know the source.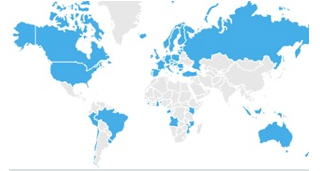 Negotiated in 2009, the Port States Measures Agreement has 23 signatories. When ratified by 25 countries, the PSMA goes into effect and will strengthen port controls preventing illicit fish from entering participating markets. Image: PEW Charitable Trusts
Keith Colburn, a Bering Sea crab fisherman famous for his appearances in the Deadliest Catch TV series, testified that "allowing illegally harvested crab to enter the U.S. and compete with our products has only encouraged destructive, unsustainable fishing practices abroad. We need the decision makers and politicians in D.C. to stand up for U.S. fishermen." According to Colburn,"the Bering Sea crab fleet has seen a 25 percent price decline because of illegally harvested crab, which has resulted in over half a billion dollar in losses to our Alaska crab fishermen since 2000." In an NPR story, Mark Gleason of the Alaskan Bering Sea Crabbers, claims there's been a big spike in Russian product flooding the market in the past 3 years resulting in a 40% drop in price.
Policy to Protect Fisheries???
In order to gain access to the US market, foreign fisheries should be held to the same standards as our own. In recent years there have been efforts to address fishing concerns, but achieving international agreement, national implementation and then enforcement is difficult. 
In 2009, the US was instrumental in negotiating the Port States Measures Agreement, which would bar vessels suspected of illegal activity from entering participating nation's ports for services or to offload goods. While the US Senate ratified the treaty in 2014, no enabling legislation has passed. A presidential task force recently issued guidance on the problem of illegal fishing calling for the development of methods to better track fish and fleets and encouraging the adoption of the Port States Measures Agreement. 
Just this month, meeting in NYC a UN working group agreed to persue an update to the Law of the Sea Convention to address areas outside of national jurisdiction. This policy recommendation must be formally adopted by the United Nations General Assembly in order to initiate international negotiations for an agreement.
In December 2013, the International Maritime Organization of the UN enacted a voluntary scheme regarding large-scale fishing vessels numbering: IMO issued numbers are to remain with the vessel even if ownership our national registration changes. As a voluntary scheme, enforcement is unclear, but widespread acceptance of the policy would allow better tracking of activity and limit crime.
While all these activities are ongoing, the National Oceanic and Atmospheric Administration is cutting the number of special agents investigating cases of illegal activity. The Baltimore Sun reports that NOAA agents have had to pass on investigating striped bass overfishing in the Chesapeake Bay and a case in North Carolina where catfish from Vietnam was likely being mislabeled as more expensive grouper.
Innovations - Industry, Watchdog and Consumer Platforms
The challenge of achieving international agreements and corresponding domestic legislation is formidable and remains to be seen. As policy makers spin their wheels, there are a number of players working to improve the situation. Driven by public interest, initiatives are being launched that support responsible harvests. As indicated in an international Marine Stewardship Council Survey that included the US and Canada, most seafood buyers believe that sustainibility is important. Similarly, a National Restaurant Association survey of chefs found that the top U.S. food trend is "locally sourced seafood and meats." The eighth major trend is "sustainable seafood."
Innovations in fleet monitoring, gear, distribution and labeling are improving the market place and reducing the impact of the fishing industry on ocean species. Some noteworthy initiative are highlighted below.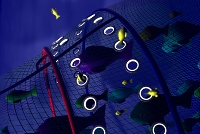 The Safety Net by UK designer by Dan Watson is an efficient trawl system incorporating lighted escape rings among many other mechanisms to release juvenile and unintended catch. See how it works in this video. Image: Dan Watson
Better Fishing Gear
Equipment used to capture fish can damage habitat and trap nontargeted species. In the US alone, Oceana estimates that US fisherman throw away about 20% of their catch representing about 2 billion pounds of incidental species or bycatch. Worldwide, the average bycatch rate is more like 30%. The good news is that exclusion and bycatch reduction devices are being integrated into gear. From lighted fish escapes to baits that repel unintended species, technology is being developed and deployed to reduce bycatch. The World Wildlife Fund Smart Gear Challenge encourages collaboration between scientists, fishermen, and conservationists and supports innovation with financial rewards. One of the winners of the 2014 World Wildlife Fund Smart Gear competition, is a laser based seabird saver. Another runner up went to a flat fish escape hatch. The Grand prize winner addressed bycatch in purse seine nets. An air cannon sampler is used to determine if the fish are of the right species and size before they are hauled in. Prizes last year totalled $65,000. The National Oceanic and Atmospheric Administration supports the Smart Gear competition and also sponsors its own "Bycatch Reduction Engineering Program." In September, $2.4 million was allocated to 22 research projects across the country.
Rules designed to limit overfishing are encouraging adoption of better equipment. On the West Coast, ground fish trawlers now operate on a catch-share system that includes unwanted fish. Weary of exceeding the bycatch quota before intended species, fisherman are opting to invest in modified gear to reduce bycatch.
Funding Opportunities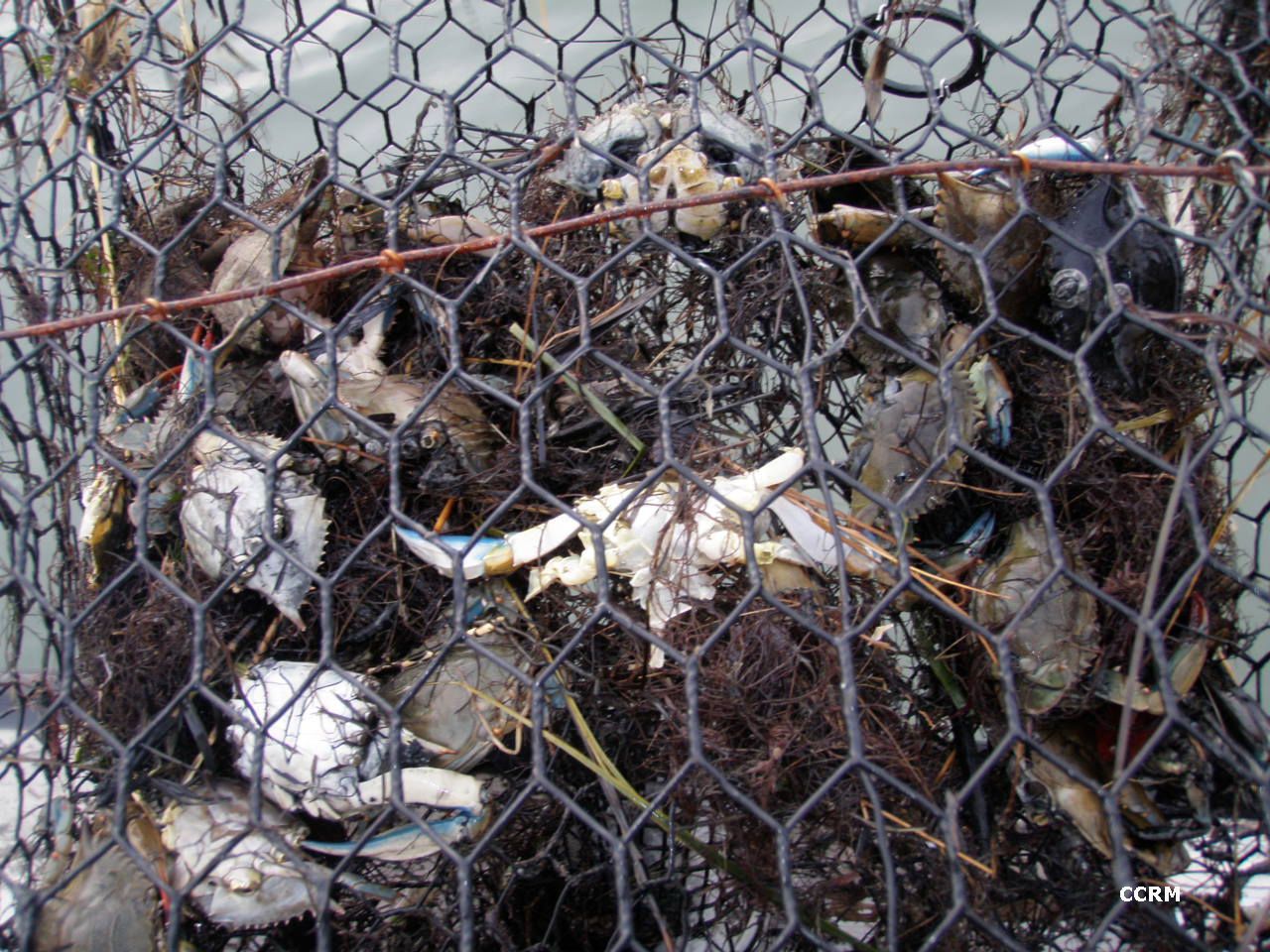 Ghost Pots continue to catch crabs when lost or abandoned. Image: Virginia Institute of Marine Science/CCRM
The National Fish and Wildlife Federation likewise promotes innovative bycatch reduction initiatives. The Fisheries Innovation Fund (FIF) will award approximately $1.16 million in grants for the 2015 funding cycle. The majority of awards under this program will fall in the range of $50,000 to $200,000. Full proposals are due February 26, 2015 with awards announced April 30, 2015.
Lost Gear & Biodegradable Panels for Crab Pots in the Chesapeake Bay
Worldwide, a staggering six hundred thousand tons of fishing equipment is lost yearly, according to the U.N. Lost gear, not only degrades habitat, it can continue to function and take species for a very long time. There are a number of programs to collect used gear and recover lost equipment. Netting is recycled into clothing, carpets and one company, Bureo, is making skateboard decks out of it.
Crab and lobster pots are frequently lost. Estimates in the Chesapeake Bay are high, about 20% annually. Many states including Alaska, Maine, New Jersey require biodegradable panels inserts to prevent "ghost fishing." While Virginia has no such mandate, there have been long-term efforts to remove derelict crab pots from the Chesapeake Bay. Researchers estimate that as many as 913,000 crabs valued at $304,000 are lost in Virginia ghost pots every year.
Through a Fishing for Energy Grant, the Virginia Institute of Marine Science is paying commercial fishermen to test biodegradable trap panels and gather data on terrapin turtle avoidance of crab pots based on the color of the entrance funnel. The panels, designed by VIMS, are available through a Richmond, Virginia company. Mobjack Binnacle Products sells the biopanels for $1.50/a piece. Certified use of the devices could elevate a crabbers stance in the market and add value to their product.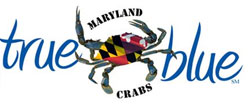 True Blue Maryland Crab meat - Click the image to view participating restaurants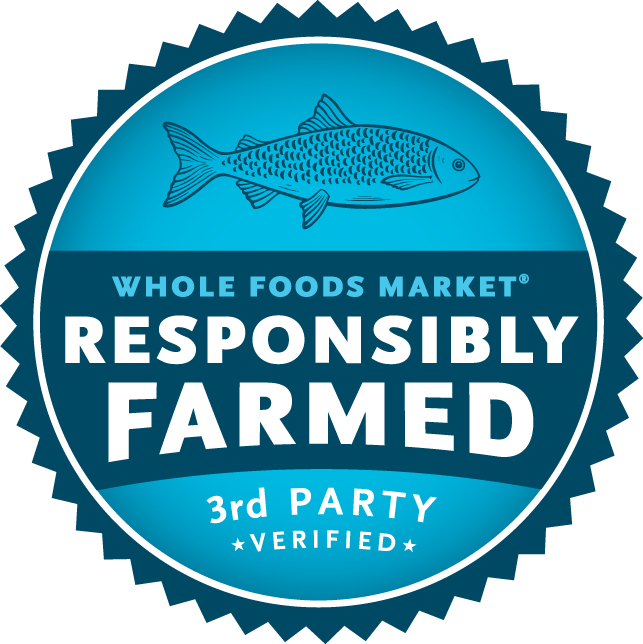 In January 2015 Whole Foods released standards for Responsibly Farmed Mollusks. Rappahannock Oyster Company of Virginia and Maryland's Marinetics have passed strict third party compliance evaluations and their products will be featured in Whole Foods Markets. Read the Standards Document.
Marketing & Distribution of Sustainable Seafood
Protecting Old Favorites and Introducing New Options around the Chesapeake Bay
While the potential for a sustainable crab label is intriguing, Maryland is already promoting its "True Blue" label to distinguish its product from Asian crab meat. Restaurants certified through the state program are using the icon for promotion and on their menus. "Customers can look at a menu and know right away that they're getting what they think they're getting," said Steve Vilnit, Director of Fisheries Marketing for the Maryland Department of Natural Resources. Its been a longtime industry secret that traditional crab cakes may not even contain American crab meat.
To improve Chesapeake Bay habitat, a new product is also entering the supply chain: Invasive fish. Blue and flathead catfish have taken over some tributaries of the Bay. The long lived voracious eaters also turn out to be rather tasty, so some conservationists are promoting them as a sustainable food source. Featured at trendy restaurants, they are available to consumers through Whole Foods and regional seafood supplier ProFish. ProFish, will donate 25 cents to charity for each pound of invasive catfish sold as part of their "Charity off the Hook" foundation.
Sustainable Labels
Labels and certifications increase marketability, so a growing number of companies are sourcing sustainable product. Rappahannock Oyster Co. of Virginia and Marinetics of Maryland have just been selected as oyster providers under Whole Foods newly launched "Responsibly Farmed" standard for mollusks. A unique requirement for certification includes an evaluation of the health of sediments on the seafloor below the farms. High density production with little water flow creates sediments that are toxic to animals that live there. Reiterating the importance of traceability, Whole Foods' Carrie Brownstein commented that "as mollusks are becoming more popular and the seafood market more global, it's increasingly important that our shoppers have responsibly sourced options they can trust." In addition to Whole Foods, Safeway, Wegmans and Trader Joes have received high marks on Greenpeace's annual rankings of supermarket seafood outlets. The full report is available here.

With smart phone access, traceability systems, like Red's Best allow consumers to track seafood from the ocean to the dinner plate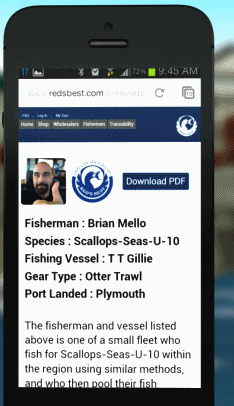 Purveyors Create Trust through Traceability
A one stop shop for sustainable seafood can be found at the FishChoice website. FishChoice provides an online user friendly seafood sourcing tool. Partnering with many seafood conservation organizations, like the Monterey Bay Aquarium's Seafood Watch Program and the Marine Stewardship Council, it's possible to search for and source certified sustainable product. You can even conduct a search under a preferred label, including a local affiliate, the Virginia Aquarium,'s Sensible Seafood program. Some but not all of their listed suppliers use the FishChoice platform. The complete directory of suppliers and restaurants can be found on the Virginia Aquarium's Sensible Seafood Program website.
Big regional suppliers like J.J. McDonnell and Profish are feaatured on FishChoice. In addition to seafood certifications, sustainibility ratings for species are available. Both companies also offer traceability platforms that allow consumers to learn the story of their fish. QR code links can be found through both sites. Traceability technology is provided by numerous vendors. Through these platforms, electronically recorded information can be transferred along with the fish through the supply chain. When QR codes are included on menus or featured at fish counters, consumers have the opportunity to peruse pertinent data about the origin of a fish and make an informed choice about a meal. Like many traceability platforms, including Trace Register used by J.J. McDonnell, consumers can access information through their phone. The Future of Fish has prepared a comprehensive listing of vendors including comparisons of the various tracking systems available.
Traceability technology, doesn't just protect consumers, it ensures the integrity of a brand and provides value added benefits to the companies that use the technology. A video about how Trace Registers's technology helped Kwik'pak, a Yukon salmon fishery and the community that supports it can be viewed here. In a nutshell, Yukon salmon was often counterfeited. Traceability set wild Yukon salmon apart from other salmon. As a result, demand for kwik'pak salmon is high and jobs are being created within the community.
Blue Crab DNA Testing
New technology is also being developed to ensure product authenticity. Profish is working with a Baltimore company to ensure, that their blue crab is legitimate. Instant Labs has developed game changing technology: an instant turn around test for blue crab at a fraction of the cost for traditional DNA testing. The company is also working on tests for other species. Check out this Instant DNA Testing youtube video on the process.
Innovative Trading System are Being Developed
Culinary Trends
Chef's Collaborative Trash Fish Dinners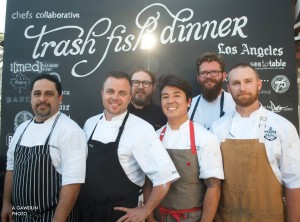 Since early 2013 dinners have been hosted across the country to bring attention to undervalued and under utilized species of fish. Image: Chefs Collaborative
Wild Caught Chesapeake Bay Catfish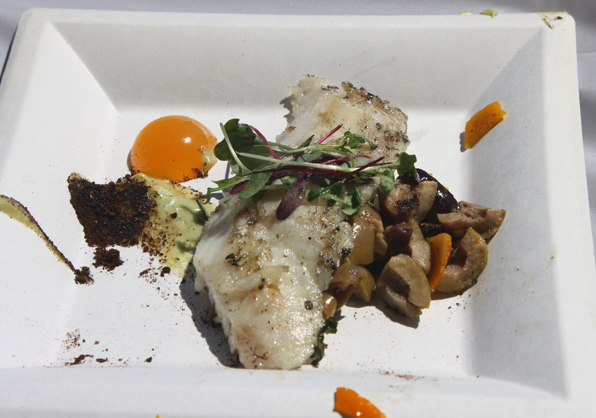 ProFish is selling over 300,000 pounds a year of Chesapeake Bay Catfish. The Maryland Department of Natural Resources is sponsoring a campaign promoting consumption of the invasive species. Image: NOAA Chesapeake Bay Office
Edible Sushi Labels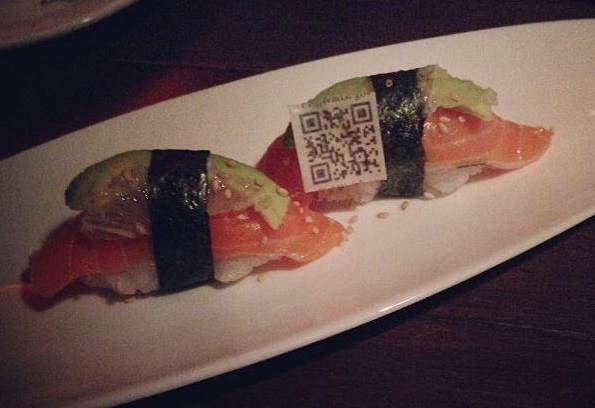 Studies have found high rates of species substitution at Sushi restaurants. San Diego's Harney Sushi sets itself apart from other sushi restaurants with labels that lead diners to NOAA's FishWatch website - Image: Nina C / Harney Sushi
Faux Fish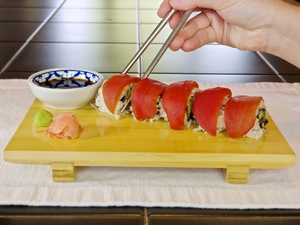 From Chef James Ciorwell in San Francisco, the faux fish has a meaty texture is made from just six natural ingredients. Image: Tomato Sushi
In addition to traditional distribution methods, new sourcing methods are also emerging . Often organized by fishermen themselves, cooperative and community or restaurant supported fisheries are being sought out by chefs as well as consumers. Operating on the same premise as the farm to fork movement, CSFs like Dock to Dish are local endeavors supported through membership allotments. A share is purchased in advance and a weekly supply is provided to subscribers. A directory of CSFs can be found here. Cooperatives like Sea to Table and Gulf Wild partner with fishermen to sell their product. Gulf Wild is a nonprofit that requires its members to fish under strict conservation covenants. Product is shipped directly from the docks and a tag on every fish provides electronic catch data. As part of its consumer outreach and education programs, Gulf Wild promotes events where chefs compete in friendly competitions to prepare gourmet dishes out of unfamiliar and under utilized bycatch species.
Innovation Funding Opportunity
The Fish 2.0 contest brings investors and seafood entrepreneurs together to generate financing for sustainable projects. The 2015 competition commenced on January 15 and has an application deadline of April 27. Last years winner, Blue Sea Labs received the $40,000 grand prize for system that would allow fisherman to electronically submit catch info while at sea, so fish can be sold before ever reaching the dock. This year sponsors have committed $180,000 in awards for the contest and will pay expenses for finalist to travel to the event.
Big Players Taking on Sustainibility - High Liner Foods
It's not just niche markets that are taking on the sustainibility challenge. High Liner Foods, North America's largest frozen seafood supplier, announced that it has reached 99% of its goal to source all of its seafood from certified sustainable or responsible fisheries and aquaculture. The company operates a processing facility in Newport News, VA that makes fish fillets for McDonald's, Burger King, Wendy's and Arby's. Last year the company was recognized by the World Wildlife Fund Canada as their 2014 Partner in Conservation. At the 2015 SeaWeb Seafood Summit in New Orleans, the company's Director or Sustainibility Bill DiMento,will be honored as a Seafood Champion. The SeaWeb global summit brings together leaders from the seafood industry, conservation community, academia and government to facilitate action supporting a healthier ocean and responsibly sourced seafood. This year's summit will kick off with a keynote presentation by Dr. Kathryn Sullivan, the new Director of the National Atmospheric Administration and will close with a presentation by Fabien Cousteau. You can learn more about champions recognized here.
Fleet Monitoring
Despite all the efforts described above to improve fishing tactics and increase traceability, systems to better monitor activity on the open ocean are desperately needed. In a related post last December, Global Fishing Watch, a satellite imagery monitoring program was described. The platform developers envision one day crowd sourcing assistance from concerned citizens. On the heels of the Global Fishing Watch announcement, the Pew Charitable Trusts released information on another platform that captures current data to monitor fishing activity from space. The Eyes on the Sea technology is fully described in the youtube below.
The information system was created in partnership with the U.K.'s Satellite Applications Catapult. The analysis tool integrates multiple sources of live satellite tracking data and links to information on a ship's ownership history and country of registration, generating real time data that can be used to notify authorities about suspected illegal activity.
"Project Eyes on the Seas" is designed to transform the current very expensive and patchy system of information gathering and enforcement into a global system for identifying and tracking illegal fishing vessels that is far more cost effective. This system will enable authorities to share information on those vessels operating outside of the law, build a comprehensive case against them, track them into port or within reach of enforcement vessels, and take action against them," said Joshua Reichert, executive vice president of The Pew Charitable Trusts.
Pew has been working to establish marine reserves in the Pacific and through its Eyes on the Sea Virtual Watch Room, monitoring will be established around Easter Island, a Chilean territory and the Pacific island nation of Palau. More info.
What's Next?
To relieve pressure on ocean stocks, the solution to providing protein for a growing planetary population will likely be found in aquaculture. Check out the land based systems that were featured in a 2012 post and check back for a forthcoming update on the technology.
Related Posts:
The Stars Come Out for the Ocean
Nature at Work - Part 2 - Marine Ecosystems
Avoiding a Collision Course among Ocean Giants
Celebrating the Sea & Talking Trash
Marine Pollution Solutions (in Waste as a Resource)
Fishing for Sustainable Seafood: Successful Solutions to Feed the Future
Check the Archive for Previous Posts
All Rights Reserved. Disclaimer.